The 56th Annual Grammy Awards are just around the corner and with plenty of strong nominees in every category, this year competition is tight when it comes to handing out music's top honors. This week, we'll be bringing you some of our predictions in a few of our favorite categories. First up, Best New Artist.
The Nominees:
James Blake
Kendrick Lamar
Macklemore & Ryan Lewis
Kacey Musgraves
Ed Sheeran
Our Pick: Macklemore & Ryan Lewis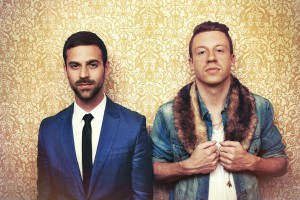 This duo certainly made their mark in 2013. They've racked up an astonishing seven nominations, including nods for Album of the Year and Song of the Year. Bursting onto the scene with catchy megahit "Thrift Shop," the pair also made clear that their music can take on more powerful issues with the moving, politically-charged ballad "Same Love," which is nominated for Song of the Year. Macklemore & Ryan Lewis's tightest competition appears to be Kendrick Lamar, as the nominations this year seem to be unusually friendly to male rap/hip-hop performers. Kacey Musgraves could make a case for deserving the award, considering her work has been acclaimed across musical genres, but country artists tend to get overlooked for this award. As for Brits James Blake and Ed Sheeran, neither seem to have had quite the presence as their fellow nominees, although both put out exceptional albums worthy of nominations. In the end, Macklemore & Ryan Lewis established themselves as front runners in the music world, and judging by the numerous nominations, clearly impressed the Academy.
Be sure to tune in to the 56th Annual Grammy Awards to see the winners in this and every category. The ceremony will air Sunday, January 26 at 8 p.m. ET on CBS.