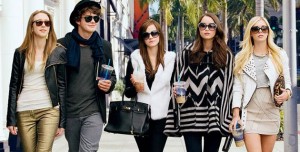 Review by Marcus Flewellen
"I'm a firm believer in Karma, and I think this situation was attracted into my life because it was supposed to be a huge learning lesson for me to grow and expand as a spiritual human being. God didn't give me these talents and looks to just sit around being a model or being famous. I want to lead a huge charity organization. I want to lead a country, for all I know."
Nicki, after being convicted of first degree residential burglary
The Bling Ring, the latest film from acclaimed writer/director Sofia Coppola, is the easily the most disappointing film of the year so far.
The film is based on the true story of five rich, shallow and brand-obsessed California high schoolers who burglarized several celebrities' homes from October 2008 to August 2009. (Paris Hilton, Audrina Partridge, Lindsay Lohan and Megan Fox are among the victims.) By the time they were arrested by the police, they had stolen nearly $3 million worth of cash, clothes, shoes, handbags, guns and jewelry.
Newcomers Katie Chang and Israel Broussard, Taissa Farmiga and Claire Julien all deliver strong performances as four of the five members of The Ring. But Emma Watson completely steals the film as the group's fifth and most (in)famous member Nicki. Watson smartly avoids cliché and delivers a sharp, nuanced performance as a conniving, fame-obsessed bad girl. It's easily the best performance of her career.
But Coppola fails to capitalize on the film's terrific premise. The film becomes incredible repetitive really quickly; most of the film's running time is comprised of the group easily breaking into houses and trying out new clothes. And for someone who's spent a lot of time in the celebrity spotlight (Coppola is the daughter of Francis Ford Coppola, the director of The Godfather) she offers no new insight about the nature of fame. She's made a shallow film about shallow people.