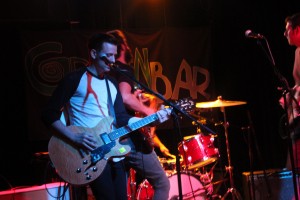 By Brian Hoff, Assistant Music Director and Connor Hughes, Music Director
Brian's Side:
MODOC, a southern roots rock back out of Nashville, visited Tuscaloosa for the first time bringing with them some "bombastic rock to a bare-bones crowd," as Connor Hughes, my companion on this journey that was MODOC, put it.
Indeed, Hughes had a point – a strong one at that. MODOC brought the heat to Green Bar despite almost NOBODY SHOWING UP. Come on, Tuscaloosa. This group of guys, originally from Muncie, Ind., has played for crowds large than 3000 people. We can give them the respect they deserve next time they come to the City of Champions. I'll see to it myself.
I asked them after the show how they brought so much energy to stage without a crowd to feed off of. The guys looked at each other, looked back at me, looked at each other and responded saying, "That was only a fraction of how we usually play."
90.7's music staff is now dying to catch these guys on their home turf of Nashville, where not only would there be a crowd, but, hopefully, a dedicated following as they explained exists in Des Moines, Iowa. Wait, what? Yes, these guys, who reminded us of Kings of Leon, The White Stripes, Band of Skulls (whom they covered), along with a cornucopia of other power-riff-southern-blues-rock-esque bands, have a large fanbase in Iowa of all places.
You may be wondering what made MODOC so special? The lyrics? The guitar solos? Their tsunami of energy? While all of these things were impressive, I think the real jewel of MODOC is the drum and bass team, Johnny Carlson and Caleb Crockett, respectively. Apparently, their bandmates feel the same way, which is always awesome to see.
"Yeah, man! The rhythm section is too great," said Clint Culberson, lead singer and lyricist for MODOC.
MODOC plans to return to Tuscaloosa in the near future. Hopefully they will find a better crowd, perhaps at Egan's, the local rock-n-roll dive bar, where this style of rock is welcome and easily heard on the Strip.
Connor's Side:
    An unassuming group of teenagers took the Green Bar Stage before MODOC destroyed it. The band Velouria is barely out of their teens, with the oldest member, Deanna Medina, clocking in at eighteen years of age. Age, however is a mere technicality. These "kids" from Birmingham, AL have the sonic prowess of a group far more seasoned than they.
I distinctly remember hearing about Velouria through some very impassioned tweets from Birmingham's favorite online DJ, Reg of Reg's Coffeehouse. Like a sign from above it would appear, Michael Harp, singer/guitarist/writer, appeared at the station not a fortnight later, album in hand. He left it asking to give a simple listen, and I gladly took it off his hands. After listening to the intro riff of the song "Grey Matter" I was enchanted. Giddily, I phoned up Michael only five minutes after he walked out of the station to come record a promo for the Green Bar Show.
So after a week of sitting on my hands, the night came for me to see the band. Velouria failed at only one thing, and that was to disappoint me. WU-LYF style guitars and vocal harmonies that would make the Civil Wars take a step back, this six song set solidified my fandom for th