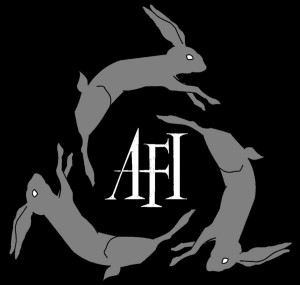 All I can say is that I cannot express how honored I was to interview one of my favorite band's drummer. Here is my interview with Adam Carson from AFI. Enjoy!
How has the response to Burials been?
We've been touring on Burials for a little over a year now and it's been great. We've played great shows and people seem to like the songs. The new songs fit in will with our old back catalogue. Just in general, I think it is a record people have gotten behind.
How did the writing from this album differ from previous ones?
The process was a little bit different this time. We are kinda scattered around California now. I still live in the Bay Area. Davey, Jade and Hunter all live down in LA. So, Davey and Jade were doing a lot of writing on their own and for ease of getting ideas across, Jade was doing a lot of programming of the songs to get a rough outline. Then he was emailing them up to us. By the time we got together as a band, we had a pretty clear idea of what the songs were sounding like, whereas in the past, it might take a lot of jamming and lot of work before we get it sounding the right way. This time we had a little bit of a head start so that was helpful.
Do you have a favorite song on the new album?
I'm really fond of the song called The Conductor.
I love that song! Oops. I'm not supposed to fan-girl. Sorry.
[Laughs] It's fun to play and that was actually one of the nice surprises of the writing process. When Jade sent me the rough demo of that, there was a lot of additional percussion. I was trying to figure out what was happening because you need like four arms to do all the stuff and I had to come up with a beat that was a hybrid of all these different things because there was so much I wanted to do, which is something I'm secretly proud about. It's kinda polyrhythmic.
I play drums too and there were several songs that I wondered about.
Yes! It's kinda fun. There are two beats going on and I liked both of them so I had to figure out a way to do two things at once.
You just got off tour with Linkin Park and 30 Seconds To Mars. How did that come about and how was that for you?
I'm not really sure how it came about. They asked us and we thought it was a good idea. It was fun. It was a long tour.
I went to the Charlotte date.
Oh! Cool! It was fun. We were opening the show so people were walking in from the parking lot as we were on stage. But a lot of people were there on time and got into it. Linkin Park could not have been nicer to us. They looked after us and made sure we were comfortable and their crew was accommodating to us. I can't say enough about that. They know what it's like to tour at many different levels and they were really considerate when it came to our experiences.
You're playing Alabama twice in one week. You're playing Bayfest on Friday and then you'll be in Birmingham next week, which, I will be at both, but y'all don't come South that much. I know as long as I've listened to you, and that's been a really long time, you've never come to Alabama. So, why now? Why twice in one week?
[Laughs] It occurred to us that Alabama needed some love!
I agree!
It works in well with what we are doing. We are playing Austin City Limits which happens on consecutive weekends so we were looking at what we could do between the two shows. It seemed like a good opportunity to do a Southern leg of the tour. It just seemed like they would be the best shows to play.
I had a comment about that. My first show was in Nashville many years ago and I have had to travel out of the South, well Nashville is the South, but I've had to travel far to see you guys. So, I'm glad that y'all are coming somewhere close. I don't mind travelling at all.
I get that. It makes for a long road trip.
Road trips are awesome. Like I said earlier, I drove all the way to Charlotte to see you and Linkin Park together because y'all are two of my favorite bands. And in 2010, to Atlanta with my mom to see y'all with Green Day. Then I was at the show in Atlanta in January.
How long does it take to get to Atlanta?
About four and a half hours from me. It's not too bad.
Ok, well at least it's not too bad. I'm flattered you drove that far.
Charlotte was a lot further. Nashville is about six hours from me and Charlotte is about 10, but it was so worth it. But that is off topic. What can someone who has never seen you before expect from a live show?
You can expect a unique show, one that is different than the show we played the night before. For better or worse, we don't really subscribe to a lot of the Rock band pageantry. We go up there and we play our songs and we play them honestly and we try to emote in a way that just comes naturally when we play our music. You can expect Davey to be really passionate and interact with the crowd. Hopefully the crowd reacts with the same sort of energy. We just go out there and do our thing. It just sort of comes organically.
From observing your live shows, I noticed that File 13 was on the setlist earlier this year and when y'all played that I was like "Oh gosh! This is old! This is REALLY old!"
We usually just let Jade handle that. He's pretty good at creating setlists. I think Davey and I sorta get a little bit blinded but what we would really like to play. Jade is good at anticipating what a crowd might want to hear, which is sometimes two different things. We for a year at a time sometimes. It's not that things get dull, but the repetition starts to feel like things might be getting stale. We like to mix it up and Jade is really good at keeping the setlist different. He is also really good at considering what people who are going to two or three different shows close by, would want to hear. I just let him do it. I just get up there and read the list.
That works. Tell him in Birmingham, Summer Shudder needs to be on the list! That's the one I haven't heard yet.
Gosh!  I don't even remember if I know how that goes.
Sorry for fangirling. I am just really excited that my job allowed me to do this. Is there anything else you want to add?
We are looking forward to being down there. Hopefully this will make up for several years for skipping Alabama entirely. We hope people come out and hope they enjoy the show. If you haven't seen us play, I know you have, but if anybody else hasn't, come check it out. I think it will be fun.