Justin Thompson, one of two men running for the SGA Presidency talked to Capstone News Now about his campaign and some of the biggest campus issues of the day, including student parking, diversity and the role of the "Machine".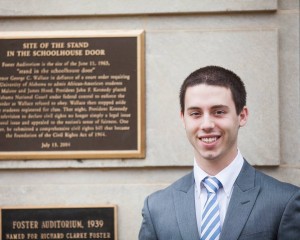 Justin Thompson
Photo Credit: Facebook.com/JustThomp
Click below to listen to the interview:
Capstone News Now is the flagship news radio program for WVUA-FM. You can listen to the show every Monday- Thursday from 3:30 to 5:00 PM. Follow us on Twitter @CapstoneNewsNow and feel free to email us suggestions, tips and comments to news@wvuafm.ua.edu.