Dave and Lisa Bundy recently adopted four children from Ukraine. The Montgomery natives spent two months in the Eastern European country finalizing legal documents needed for the adoptions to happen. That process was complicated after political demonstrations turned violent and the government led by former President Viktor Yanukovych was forced out of power. Now Dave is back home in Alabama with three of the children while Lisa remains with 16 year old Nastia, as she awaits a court to approve the adoption.
Dave Bundy spoke to Capstone News Now by phone and talked about how close his newly expanded family came to violence in the capital city of Kiev.
Click below to listen to the interview: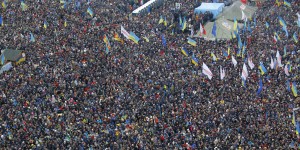 Protestors on the streets of Kiev
Photo Credit: The Huffington Post
The Bundy's first got the idea of adopting children from Ukraine after volunteering their time at Montgomery based charity, Bridges of Faith. The group brings in orphans from Ukraine and has them live in Alabama for one month as a form of cultural exchange. Bridges of Faith's president Tom Benz spoke to Capstone News Now by phone.
Click below to listen to the interview:
Capstone News Now is the flagship news radio program for WVUA-FM. You can listen to the show every Monday- Thursday from 3:30 to 5:00 PM. Follow us on Twitter @CapstoneNewsNow and feel free to email us suggestions, tips and comments to news@wvuafm.ua.edu.