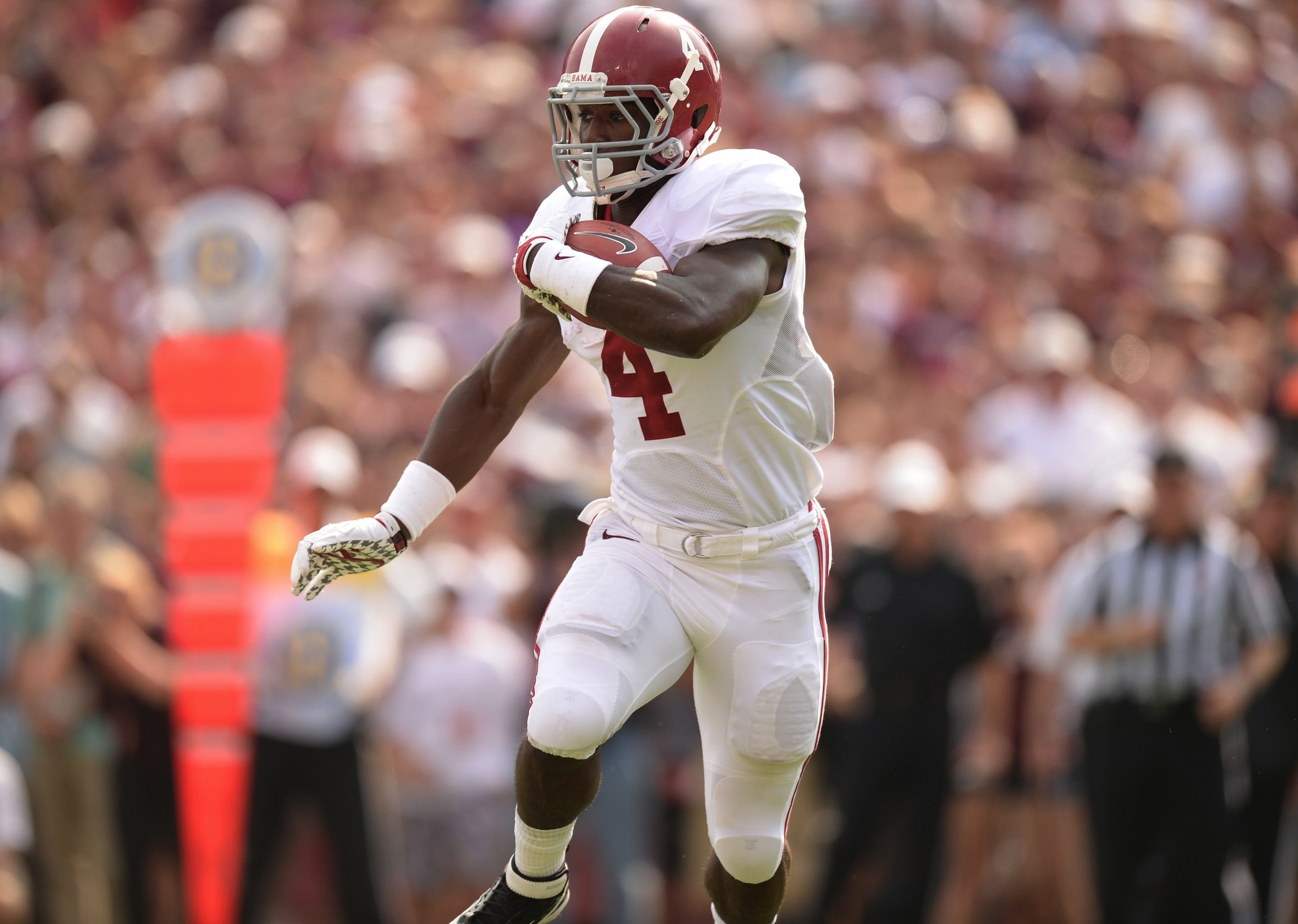 Live game day coverage of the Allstate Sugar Bowl Classic, as the third ranked Alabama Crimson Tide take on the 11th ranked Oklahoma Sooners.
—
2:30: Officially set up in the press box. The view is nice, inside the Superist of Domes. Field isn't even ready.
https://mobile.twitter.com/sethejuneac/status/418843035485474816
—
3:10: Got the starters in hand, no real surprises. Oklahoma will indeed run a two quarterback system; depth chart reads "Trevor Knight OR Blake Bell".
—
4:30: Three hours until kickoff, and fans are sporadically starting to fill the seats of the Superdome. Stadium fits around 72,000, wonder how close to capacity it gets.
—
5:15: Tonight's officiating will be handled by an ACC crew. If I remember correctly, it was an ACC ref that made some noise about the Clowney hit in the Outback Bowl being illegal this past summer. Probably unrelated to tonight's matchup, but worth thinking about.
—
5:25: Both teams have arrived at the Superdome, and have headed to the locker room. Greeted by cheers from corresponding bands and spirit squads.
—
5:40: Less than two hours until gametime. Quarterbacks in the field getting loose and whatnot.
—
5:45: Meanwhile, top-rated recruit Leonard Fournette chooses LSU over Alabama at the Under Armour All-America Game. Not that Bama needed him with Derrick Henry, Kenyan Drake and another year or two of Yeldon, but too much is never enough.
—
5:55: Countdown to kickoff has started inside the dome. A comparison of the cheers following the introduction of the teams suggests that the crowd is 80-20 Alabama. That much louder.
—
6:10: Sooners take the field first for pregame warm ups. They'll be wearing white jerseys with white pants, stripes down the leg.
—
6:20: Bama now takes the field for their warm ups, again to a deafening crowd. Oklahoma was noticeably louder after the band played their fight song, but still, atmosphere feels dominated by Alabama.
—
6:25: Leon Brown replacing Anthony Steen tonight, who is out due to injury. Brown, a junior usually listed as a tackle will get the start at guard.
—
6:35: Less than an hour now. Still a lot of empty seats, but Superdome filling out nice.
—
7:00: Half hour out, both teams leave the field and head to their locker rooms. Bands at the sidelines.
—
7:20: Both bands wrap up their pregame festivities, wrapped up by a simple, yet powerful rendition of the national anthem as performed by Mad Men's Bryan Batt. Football time, folks!
—
-FIRST QUARTER-
7:30: Norwood, McCarron and Mosley team captains for the Tide, as Sooners win toss, elect to receive. Bama gets ball to start the game.
—
Opening drive (4 plays, 75 yards, 1:49): Touchdown Alabama, 7-0 Tide.
First play, dish to Cooper for a first down. Next play, almost identical but flipped. This one goes for 53 yards. Two Yeldon runs later, Alabama up, 7-0.
—
Oklahoma appeared to fumble the ensuing return, but ruled down. Oklahoma drive starts at the 14.
Knight starts at quarterback, and converts the third down. Oklahoma finding success with the no huddle, as the Sooners get three first downs before throwing an interception to Landon Collins. Ouch.
—
Alabama starts at their own 24 after the turnover. Takes one play for AJ McCarron to cough it back up, interception by Gabe Lynn.
—
Oklahoma scoring drive (1 play, 45 yards, :11): Touchdown Oklahoma, 7-7.
Oklahoma starts at the Alabama 45 after the turnover. Touchdown next play on the Trevor Knight pass to Lacoltan Bester.
—
Alabama scoring drive: (6 plays, 65 yards, 2:41) Alabama Field Goal, 10-7 Bama.
Alabama starts at the 25 following the Touchback. AJ makes up for the interception with a beautiful, back shoulder throw to DeAndrew White, who turns it upfield for a 63 yard gain. Alabama can't convert the touchdown, though, as they settle for the 27 yard field goal by Cade Foster.
—
Oklahoma scoring drive: (13 plays, 78 yards, 5:09) Touchdown Oklahoma, 14-10 Oklahoma.
Oklahoma starts at their own 22 following the kickoff. Knight still in at quarterback for the Sooners, who continue to find success running hurry up on Alabama. The Sooners drive into Alabama territory with ease. Kniget converts a third down and ten with a scramble up the middle to keep the drive alive Before delivering the 8 yard touchdown strike to Jalen Saunders to put the Sooners up 14-10.
—
Alabama starts at their own 20 following the kickoff. Henry starts drive at running back. A pair of Henry runs, and then Alabama tries to pull off a play action play, but Oklahoma's Geneo Grissom isn't fooled and gets the sack to end the quarter.
-OKLAHOMA 14-10 ALABAMA-
-SECOND QUARTER-
Alabama scoring drive: (5 plays, 80 yards, 2:50) Touchdown Alabama, 17-14 Alabama.
Two plays into the quarter, McCarron finds White on a deep crossing route, and he trots to an easy, 67 yard touchdown reception.
—
Oklahoma scoring drive (7 plays, 25 yards, 2:18) Oklahoma Field Goal, 17-17.
Roy Finch takes the Cade Foster kickoff to start the drive near midfield to start the Oklahoma drive. Oklahoma's no huddle catches Alabama off guard, as the Sooners convert a third and 12 with half the Bama defense looking at the sideline. It's all for naught, though, as the Alabama D holds the Sooners to a 47-yard field goal.
—
Alabama starts the drive at their 25 following the touchback. TJ Yeldon ignites forward for a 16 yard gain. McCarron maybe getting too confident, as his deep pass to Cooper loses some steam and goes incomplete. He makes up for it with a third and 10 completion to Amari Cooper to keep the drive alive. Yeldon fumbles on a 3rd down run off the left guard, and it is recovered by Oklahoma.
—
Oklahoma scoring drive (7 plays, 66 yards, 2:27) Touchdown Oklahoma, 24-17, Oklahoma.
Oklahoma starts the drive at their own 34 following the fumble. Oklahoma gets the ball moving into Bama territory before being faced with a 4th and 1 at the Bama 41. They convert with a Brennan Clay run up the middle. The next play, Trevor Knight lofts a beautiful pass to Jalen Saunders as he gets behind the Alabama defender for the touchdown grab.
—
Alabama starts at their own 18 following the return. After driving to about midfield and a third down sideline grab by Kevin Norwood, AJ McCarron throws his second interception of the game to Zach Sanchez who returns it 43 yards to the Alabama 13.
—
Oklahoma scoring drive (1 play, 13 yards, :07) Touchdown Oklahoma, 31-17 Oklahoma.
Following the interception, Oklahoma running back Sterling Shepard finds the edge for a 13 yard touchdown end around run to widen the gap.
—
Alabama gets good field position following an unsportsmanlike conduct penalty against Oklahoma start at their own 45. McCarron and company drive down the field to set up the 32 yard field goal attempt by Cade Foster, but it is no good to end the half.
-HALFTIME-
-OKLAHOMA 31-17 ALABAMA-
–THIRD QUARTER–
Oklahoma to receive second half kickoff.
Oklahoma starts the drive at their own 25 following the touchback. Jeoffrey Pagan sacks Knight to start the drive. Incompletion on second down leads to a 3rd and 15, which Bama stops. Then Tide starts the half which a much-needed three and out.
—
A Christian Jones punt return touchdown is brought back due to two Alabama penalties on the return; drive starts their own 29. A false start negates a Yeldon eight yard run on first down, which leads to a three and out, as McCarron's pass is batted down at the line. Bama punts.
—
Oklahoma starts the drive at their own 24. Instead of coming out with the hurry up like they did in the first half, Oklahoma lets the play clock run. It doesn't work, as they sputter offensively with a three and out of their own.
—
Alabama scoring drive (4 plays, 60 yards, 1:20) Touchdown Alabama, 31-24 Oklahoma.
Alabama returns the punt a couple yards to start the drive at their own 41. Derrick Henry carries the load and cashes in on a 43 yard touchdown scamper to bring the game within one possession.
—
Oklahoma starts the drive at their own 28 following the return. Bama crowd noise becoming a factor. Oklahoma picks on Jarrick Williams, who stops Jalen Saunders on first down, but gets called for defensive pass interference on second down to extend the drive. Alabama hangs tough though, as they force the punt.
—
Alabama starts at their own 20 following the punt into the end zone. Derrick Henry gets tackled behind the line on the second play, but he shakes it off and turns it into a 19 yard gain. Alabama feeds it back to him, and he responds with an 11 yard carry. The offense stagnates as he leaves the game, though, as Bama goes incompletion Yeldon run, grounding penalty after he leaves. Bama punts, and downs it at the 1 yard line.
—
Oklahoma at their own one. Come out with no huddle hurry up again, but momentum is halted by a false start penalty. Bama makes the stop and forces the punt. Landon Collins makes the play.
—
Alabama takes over at their own 46 following the punt. Henry in the game, but can't get anything going. McCarron sacked to end the third quarter.
-OKLAHOMA 31-24 ALABAMA-
-FOURTH QUARTER-
Fourth quarter starts with a third down sack of McCarron by Geneo Grissom. Bama punts and almost recovers the muffed Jalen Saunders punt, but Oklahoma recovers.
—
Oklahoma scoring drive (8 plays, 76 yards, 3:43) Oklahoma Touchdown, 38-24 Sooners.
Oklahoma starts at their own 24. After a gain of four on first down, Trevor Knight slings a pass to the sideline that is caught by Sterling Shepard for a 22 yard gain. Play would be reviewed, and the ruling would stand. Knight goes back to Shepard on the next play, this time for 12 yards. Third time is not the charm, however, as Shepard is caught with an offensive pass interference to force the first and 30. On third down, Trevor Knight floats a feather pass behind the Alabama defense that is caught by LaColtan Bester. Two plays later, the dagger touchdown comes in the form of a nine yard reception to Sterling Shepard. Oklahoma pads their fourth quarter lead, 38-24.
—
Alabama scoring drive (5 plays, 74 yards, 1:38) Touchdown Alabama, 38-31 Oklahoma.
Derrick Henry turns a short pass down the middle into a big gain, busting a couple tackles and turning on the jets. Henry delivers with the game on the line. Alabama within one score.
—
Oklahoma gets the ball, rattles off an 11 play, five minute 26 second drive before kicking it back to Alabama. Bama burns all their timeouts, and have a chance to tie the game with 56 seconds left. Do or die time for the Tide.
—
Alabama ball on their own 18. McCarron drops back, gets sacked by Eric Striker who forces the fumble. Recovered by Oklahoma's Geneo Grissom, who runs it into the endzone, touchdown Oklahoma. That'll pretty much do it. Oklahoma up 45-31 with 47 seconds left.
—
Talk about cold-blooded. Alabama won't get the ball back at all, as the Oklahoma kickoff is an onside kick recovered by Oklahoma. Ball game, folks.
-FINAL-
-OKLAHOMA 45, ALABAMA 31-
Stay tuned for a game recap, including quotes from players and coaches.
—
For more updates as the game goes on, refresh or return to this page, or follow @sethejuneac on Twitter!