With SEC Football officially underway in Tuscaloosa, WVUA-FM sat down with SEC Network's Paul Finebaum to talk about life, love and football.
First question: this Alabama-Florida game. What are your thoughts about this game?
Well I think it's a bigger game today than I thought it would have been six months ago. Some of that is Alabama not playing like I thought they would, and Florida – well, I don't really know what to make out of Florida. I was underwhelmed about what they did last weekend [against Kentucky]. But I think no matter what is going on today, these are the two premiere programs in the SEC. So it's hard not to go, "Woo, this is a pretty big game." If you ask me who I think is going to win… I don't think I've picked against Alabama for the past six years, so I'm not going to start today.
What did you think about what happened last night between Kansas State and Auburn?
I don't think it was that surprising. I mean, everyone knew the environment would be difficult. I think I was kind of torn between, "Did you think Auburn was just going to roll," or… I'm no great prognosticator, but I thought it was going to be a close game. Which means, for those of you not paying attention, means "under the spread" – which it was, barely. I was a little disappointed in the way Auburn played, though. Defensively they looked really good. Offensively, they just didn't seem to quite click on all cylinders. … And not to beat up on poor [former Alabama kicker] Cade Foster, but it looked like he was kicking for Kansas State. Kansas State didn't play like a home team.
Let's focus on you for moment. A year ago, you may not have been this same kind of pseudo-celebrity if you will. Now, you're kind of a big thing. How are you acclimating to the new fame?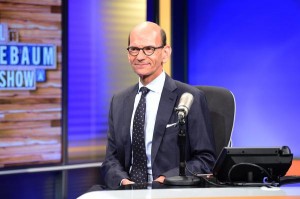 I always kind of reflect on two years today, I'm getting ready for a show at WJOX – and happy to be doing it by the way. It was a great job, and I frankly didn't think things would change dramatically. I had been doing it a long time. My contract was up, so I knew there would be some change. So when the 2012 season ended, knowing the clock was ticking, I began entertaining ideas. And probably the most logical spot for me was leaving Birmingham interestingly and going to New York to work for SIRIUS. They were making a real hard run at me. Then all of a sudden, this SEC Network started percolating and ESPN… At the end of the season I went up to Bristol, Connecticut. Never been there before. And the ESPN train started and… (chuckle) …here it is! I mean, it's been pretty amazing.
Last year, I commuted all year between Birmingham and Charlotte and did Gameday every week. One thing I said when we started our show on ESPN Radio is that we've got to broaden our show. We can't have every day be about Auburn Alabama. And last year, pretty much every day was about Auburn Alabama. You had Alabama number one in the country and Auburn decent – you know, Auburn goes to the National Championship… I may have moved from Birmingham, but I still haven't gotten away from what got me here.
I'll say this: I'm not in Alabama much, but obviously I talk to a lot of people. I'm not feeling the same vibe as I did last year when I was in Alabama every weekend. Alabama last year – it was a fait accompli that they were going to win the national championship. This year, it's like "ooh, I don't know." It's like the Auburn game has shattered some of the invincibility a little bit.
I wanted to ask you a question more related to your career.  I've asked some people who are avid listeners of your show. Do you ever think that the whole Harvey Updyke incident helped catapult you to where you're at?
(pause) …Yep.  You know, when I die, the obit will read: "Paul Finebaum, the newspaper turned talk show host who took the most famous call in radio history." That call in 2011 put me on a national level that I had never been before and never be, being from Birmingham. It brought on the movie, the documentary, which then brought on other things, which is all interconnected. Joe Tessitore, who is with me on this show – he was the co-producer of Roll Tide – War Eagle. He was driving one day, in Connecticut, and he heard the call. He called [college football reporter] Bruce Feldman in California and he said, "I just heard it." They both heard it simultaneously, and started thinking about this documentary, said "what if we did something on the craziness of Alabama-Auburn?" And while they were putting it together the [April 27th] tornado happened. And they saw the bookend because of the role our show played on that as well. They came to me about three or four weeks later. I knew Bruce, didn't even know who Joe was. They came to our studio and never really said what they wanted. They hung out for four hours and then we went out to dinner, and they said they wanted to do a documentary. I said, "great!" And they said, "We wanted to use you as the voice". Joe told me it was going to change your life. I really didn't believe him… but it did. Other things came from that, including a big piece on me in The New Yorker magazine. One thing lead to another lead to the other and that one lead to this. So Harvey Updyke I thank you, wherever you are. You are still a blithering idiot for admitting a felony on a radio show. But my life has changed dramatically as a result.
What are your thoughts on Jameis Winston and Florida State?
I think Winston has done a good job disrupting the cadence of that team. I don't really like being as critical of young people. I've done it a few times. I swore last year I would never do it again. Let's say theoretically that Blake Sims gets in trouble. I'm not going to go off on him. Nobody really knows him outside of this. Jameis is a national celebrity. He won the Heisman trophy. He's apologized ten times. I don't think he deserves anymore slack and I'm continually amazed at what Florida State has done and, by the way what the media has done to enable him. I went off on this rant the other day. [ESPN Radio morning host] Mike Golic told me I didn't know what I was talking about because I feel they view this as too close. I view sports through the prism of fandom. The average fan knows the guy as a creep. They're not making excuses for him. The people in this industry want to continue to make excuses. I'm on Gameday tomorrow before our show talking about Winston. If I said what I'm gonna say right here over in Tallahassee, I might be killed.
You kind of made your fame by saying really controversial stuff. Do you ever keep that in the back of your head when you're doing your show?
Not anymore. I used to just try to get people stirred up – I was a newspaper writer and that was the only way to get people's attention. Radio is a little different and television is much different. Like the other day, probably the most controversial thing I've said all season was about Jameis.  It ended up getting on SportsCenter and getting played all night long and I didn't really give it much thought. The show started, I did not have any notes and I just started talking. Last year, on Gameday I would just write stuff out. I got on camera once – I look down at my notes and start thinking what I'm about to say is really important. It was actually about [Alabama offensive coordinator and former USC head coach] Lane Kiffin. I did something you're not supposed to think about. There were about 25,000 people around me in Athens  – just think about that. And instead of trusting myself, I looked down and I never really looked back up. I just started reading it. It turned out to be really well-written. I said Lane Kiffin was the Miley Cyrus of college football and he ought to be fired. Well he was fired that night and I was blamed for it. But I also learned that television is supposed to be natural. It is not supposed to be about me reading. You give me a topic and I can talk about it. I talk for a living.  Yeah, it helps to know what you're talking about. It helps if you've thought about it. And it's just more natural than if it's just a prepared statement. That wasn't really your question… You do know when you're about to say something. I have said things before that I didn't intend to say. But you are a little more careful as you go up the ladder. But sometimes, you still can't help it.
Just for us in general, and advice for all the young and aspiring people who want to get to somewhere like you're at?
I give a lot of really generic advice for people. This sounds like you could get this in some manual but I really believe in it. It kind of starts with do anything you can, get experience.  You don't know what you'll end up doing.  That sounds petty  like covering a high school game or covering a high school game. Secondly, you don't know who you're going to meet and the third thing – I really stress this – is to follow up with those people. Whether it's for ESPN or some local station, stay in touch with him because at some point you're going to need people to advance. Don't expect them to know who you are. Sometimes it's overwhelming, but if you want to be on T.V. and you meet someone at the local station and you write and thank them and they get a job in Birmingham, or Atlanta or ESPN – They're going to know you. And you're going to go to the front of the line. You can be the most talented person in the world, but if you don't have a relationship – jobs are too hard to come by. It's minor but stay with people. It sounds a bit over the top that you don't know who is going to help you. But you're better off being too much with somebody – saying I'll do this or do that – than blowing them off like they don't matter. That'll get you a job much sooner than a 4.0 average.
Full Audio Below: