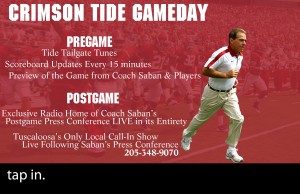 This weekend, as the Alabama Crimson Tide and LSU Tigers face off in the biggest game of the season, WVUA-FM will go Wall-To-Wall with coverage on Saturday as you prepare for the game this weekend. The coverage will be broadcast on 90.7 FM in Tuscaloosa and online at wvuafm.ua.edu.
On Saturday, starting at 4am and running into Sunday at 2am, WVUA-FM will air "Tide Tailgate Tunes", a playlist featuring a variety of songs to get you pumped up for the game with songs like Sweet Home Alabama, Dixieland Delight and songs from the Million Dollar Band. Be sure to tap in to 90.7 at your tailgate to get your dose of gameday music!
Starting at 8am, a special edition of The Morning Drive will be aired until 10am. Get ready for some hilarious commentary from JTD and The Man with the Aluminum Voice and traffic updates from UA Gameday. You don't know what to expect with this show!
Then, following The Morning Drive, the hosts of the Afternoon Drive-Thru, Michael Scott and Matt Copeland, will take over from 10am til 12pm, bringing you the latest coverage from the games Saturday and talking Alabama/LSU. Be sure to tap in to them!
Starting at 12pm, Crimson Tide GameDay will begin coverage and bring you the latest scores and news from around the country and giving you all the info you need about parking, traffic and activities regarding the day.
After the game, tune into 90.7 as we will bring you Coach Nick Saban's press conference LIVE. Following the press conference, Crimson Tide Postgame will start and discuss the results of the game and the stats.
Tap in to Wall-to-Wall coverage of the Alabama/LSU game!