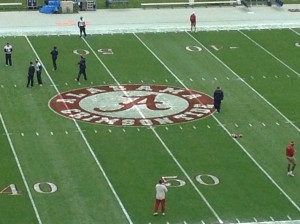 Here for your pregame enjoyment, we have all the information you could want for Alabama's regular season home finale against the FCS' Chattanooga Mocs. We'll be back at halftime with stats, analysis and more. Until then, you can get all of your in-game coverage by following me on Twitter: @Brett_Hudson.
Starting Lineup
QB: AJ McCarron
RB: T.J. Yeldon
WR: DeAndrew White
WR: Christion Jones
WR: Kenny Bell
WR: Kevin Norwood
WR: Amari Cooper
TE: O.J. Howard (in Brian Vogler's place)
H-Back: Jalston Fowler
LT: Cyrus Kouandjio
LG: Arie Kouandjio
C: Ryan Kelly
RG: Anthony Steen
RT: Austin Shepherd
DE: Ed Stinson
NG: Darren Lake (in lieu of Brandon Ivory)
DE: Jeoffrey Pagan
LB: Adrian Hubbard
LB: Trey Depriest
LB: C.J. Mosley
LB: Denzel Devall
CB: Deion Belue
CB: Maurice Smith (instead of Cyrus Jones/Bradley Sylve)
S: HaHa Clinton-Dix
S: Landon Collins
DB: Jarrick Williams
LS: Cole Mazza
K: Cade Foster
P: Cody Mandell
Senior Day
Alabama will be bidding a fair well to the following seniors that will be playing their final game in Bryant-Denny Stadium this afternoon.
WR Tyler Bass of Birmingham, Ala. (Vestavia Hills High School).
WR Kenny Bell of Rayville, La. Bell has played in 45 games for the Crimson Tide and has caught 46 passes for 853 yards and six touchdowns.
CB Deion Belue of Tuscumbia, Ala. Belue has played in 23 games for Alabama with three interceptions (one of them this season) and 10 pass break-ups (three of them this season). Belue has 11 tackles on the season for 51 for his career to-date, 6.5 of them for a loss.
K Cade Foster of Southlake, Texas. Foster has made 24 of his 39 field goal attempts as a member of the Crimson Tide (11-12 this season), and has made all 53 of his extra points for 125 points on his career.
DB John Fulton of Manning, S.C. Fulton's career has featured 46 games with 41 tackles, 2.5 of them for a loss, and nine pass break-ups. Fulton has 18 tackles on the year in 10 games of action.
P Cody Mandell of Lafayette, La. Mandell has punted 163 times on his career with an average of 42.4 yards per punt with a long of 63 yards that came last week against Mississippi State. Mandell this season is averaging 47.3 yards per punt on his 33 punts. Mandell's senior season has gotten him in the discussion for the Ray Guy Award.
QB AJ McCarron of Mobile, Ala. (St. Paul's). McCarron's career has featured 8,184 passing yards and 70 touchdowns on 637-for-951 passing (67 percent completion). Twenty-one of those touchdowns and 2,228 of those yards have come this season. McCarron's case for postseason awards is a good one.
LB C.J. Mosley of Mobile, Ala. (Theodore). Mosley has notched 292 tackles on his career, 21 of them for a loss and 155 of them solo. Mosley has also added five interception, 19 pass break-ups and 6.5 sacks. This season, Mosley has 81 tackles, seven of them for a loss, with five pass break-ups and one forced fumble. The final season of Mosley's career could see several postseason awards heading his way.
WR Kevin Norwood of D'Iberville, Miss. Norwood has caught 10 touchdowns in 45 games with the Crimson Tide on 72 catches for 1,116 yards. This season, Norwood is second on the team in catches with 29 and leads the team in both receiving yards with 409 and touchdowns, with five.
LB Tana Patrick of Bridgeport, Ala. Patrick capped off his career with a forced fumble on the goal line against LSI a few weeks ago, the biggest play of a 38-game, 36-tackle career that also features a pass break-up. Nine of those 36 tackles have come this season.
S Nick Perry of Prattville, Ala.. Perry's career, cut short by a shoulder injury, will end with 41 tackles, two for a loss, and four pass break-ups. Perry's senior season will end without a tackle in two games of action.
WR Ty Reed of Rocky Hill, Conn. Reed's only game appearance came earlier this season against Georgia State. Reed caught one pass for three yards against the Panthers.
OL Anthony Steen of Clarksdale, Miss. Steen has tallied 34 starts for the Tide and is being pushed as a postseason award candidate.
DE Ed Stinson of Homestead, Fla. Stinson enters his final home game with the Crimson Tide with 5.5 career sacks as a part of 15.5 career tackles for a loss. Stinson has tallied 94 career tackles, 31 of them in 2013. Stinson's 2013 has also featured 1.5 sacks and a fumble recovery.
LB Matt Tinney of Hoover, Ala.
OL Kellen Williams of Lawrenceville, Ga. Williams has been a key reserve for Alabama's offensive line this season, including coming in for Anthony Steen on the final drive of this season's Texas A&M game.
Players to Watch
Alabama safety Landon Collins: Collins was recently named a semifinalist for the Thorpe Award, given to the nation's best defensive back. An inteception or fumble recovery – or both – today against the Mocs would definitely help his case.
Chattanooga defensive end Davis Tull: Tull, only a junior, set the Mocs' career record for sacks with 26.5 on Oct. 19 against Elon. This season, Tull is 15th in the FCS with 9.0 sacks. All of these numbers are coming against FCS competition, but whoever ends up blocking Tull on a snap-by-snap basis needs to avoid sleepwalking through a play, or Tull can – and will – end a few Alabama possessions early.
Alabama quarterback Blake Sims: When the inevitable happens and ALabama switches quarterbacks in the later stages of the game, Sims has the opportunity to prove himself as the No. 1 option for next year's starting quarterback, especially since the Tide will likely continue to redshirt its three freshman quarterbacks.
Numbers to Know
1: Chattanooga ranks first in its conference (Southern Conference) in the following statistics: pass defense, scoring defense, total defense, interceptions and opponent 1st downs.
1: Alabama and Chattanooga have one common opponent in Georgia State. Alabama beat Georgia State 45-3 at home on Oct. 5, while the Mocs beat the Panthers 42-14 on the road on Sept. 7.
2: Alabama has had three back-to-back-to-back drives end in scores in all but two games this season: Virginia Tech and Mississippi State.
2: Alabama has started two games this season with four or more straight touchdowns: five-straight against Georgia State and four-straight against Tennessee.
11: Alabama has won all 11 meetings against Chattanooga, including all five in Bryant-Denny Stadium.
21: Chattanooga is ranked 21st in the FCS coaches poll, sitting right on the bubble of making the 24-team FCS playoffs. This is the Mocs' final game of the 2013 season.
78: Alabama has 78 plays gain 20 or more yards this season, 22 of them resulting in touchdowns**. Christion Jones leads the team in 20 or more yard plays with 19. T.J. Yeldon is the only other Alabama player with more than 10, tallying 15. **This includes returns of punts, kick, fumbles and interceptions
Pregame Notes
– The last time Chattanooga beat an SEC team was Nov. 8, 1958, when the Mocs beat Tennessee in Knoxville 14-6. Overall, the Mocs are 4-113-3 against SEC teams.
– Chattanooga head coach Russ Huesman recently became the Mocs' fourth most-winningest coach, passing Alabama alum Bill Oliver. Huesman is 31-24 as the head coach at Chattanooga.
– AJ McCarron is two touchdowns away from throwing his 45 touchdown pass in the friendly confines of Bryant-Denny Stadium.
– Amongst those with 30 or more collegiate starts, McCarron's 35-2 record is 4th in winning percentage (.946). With wins over Chattanooga and Auburn, McCarron will tie the 37-2 mark set by USC's Matt Leinart.
Final Prediction
Alabama 52, Chattanooga 0.