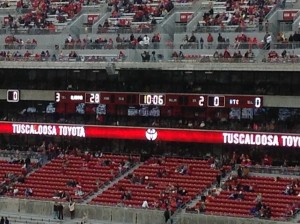 As we promised earlier in the Pregame Post, here is all of the stats, analysis and more for the halftime break as Alabama leads Chattanooga 28-0. In-game coverage will continue on Twitter: @Brett_Hudson.
Quote from Nick Saban
"We have a lot of respect for the way Chattanooga plays. They have a lot of toughness. They're really well-coached. They run a lot of options, and they make it difficult to do a lot of stuff and play basic defense. Other than giving up a couple of screen passes, we've done okay so far. We just want our players to play well, so we build some momentum for what we have to do down the road. We want to continue to do that in the second half."
Team Stats
Rushing Yards: Alabama 112, UTC 46
Passing Yards: Alabama 110, UTC 55
Total Yards: Alabama 222, UTC 101
Time of Possession: UTC 19:54, Alabama 10:06
Penalties: Alabama 0-0, UTC 4-30
First Downs: Alabama 11, UTC 5
3rd Downs: Alabama 1-3, UTC 2-8
4th Downs: Alabama 1-2, UTC 0-1
Individual Stats: Alabama
AJ McCarron: 9-12, 110 yards, 1 touchdown, 0 interceptions
Kenyan Drake: 8 carries, 61 yards, 1 touchdown
Derrick Henry: 3 carries, 36 yards, 1 touchdown
Kevin Norwood: 4 catches, 84 yards, 1 touchdown
Christion Jones: 1 catch, 15 yards
C.J. Mosley: 7 tackles, 2 for a loss
Landon Collins: 6 tackles
Trey Depriest: 4 tackles, 1 interception
Individual Stats: Chattanooga
QB Terell Robinson: 7-12, 55 yards, 0 touchdowns, 1 interception; 7 carries, 21 yards
Kendrix Huitt: 6 carries, 16 yards
Derrick Craine: 4 carries, 12 yards
Marquis Green: 3 catches, 15 yards
Derrick Craine: 1 catch, 17 yards
Xavier Borishade: 1 catch, 16 yards
Thoughts from the First Half
– Running back T.J. Yeldon and tight end Brian Vogler clearly do not look like players that planned on playing in today's game, as Derrick Henry and Malcolm Faciane played in front of both of them. The easy guess would be that they are both dealing with nagging injuries and Alabama was playing it safe with them with Auburn on the horizon, but we'll surely get official word from Nick Saban after the game.
– I'll just leave this here.
There may be a better freshman defensive lineman out there than A'Shawn Robinson, it's a big world of CFB. But I haven't seen one yet.

— Brett Hudson (@Brett_Hudson) November 23, 2013
– My guess is replacements will begin to come in late in the third quarter, depending on how well the starters play coming out of the locker room for halftime. Saban has always gotten the starters some second half action in these games so the players still have a feel for playing well out of halftime, and I feel confident that will be the case today, as well.