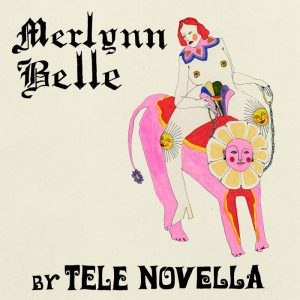 Within the opening moments of the first track, Texas-based duo Tele Novella immediately sets the tone for their new album, Merlynn Belle. This tone, described by the band as "medieval country songs through a 1950s western lens,"  is a notable shift from the sound of their previous projects. Where past records functioned as conventional indie rock with slight hints of western/country/folk, Merlynn Belle fully embraces these influences, combining them with rock to create something quite unique. 
This genre blend also highlights Natalie Robbins' vocal strengths. Her occasionally whiney and discordant vocalization, though somewhat jarring, contributes to the down-home, personal feel of the album. This is not to say that Robbins is a bad singer. Her work on "Paper Crown" is testament to her vocal capabilities. Instead, Robbins sacrifices technical perfection in order to capture the right emotional expression for each track. This ability to adapt is also shown through Robbins wide vocal range, which allows her to conform to the needs of each song, be it a high lilt ("Words That Stay") or a low growl ("Crystal Witch"). 
Range is also an appropriate way to describe the instrumental decisions on the album. The other half of Tele Novella is Jason Chronis, a multi-instrumentalist who makes full use of his musical skills on Merlynn Belle.  Whether it's a dulcimer ("It Won't Be Long"), a whistle ("Wishing Shrine"), or a xylophone ("Paper Crown"), Chronis' music works in tandem with Robbins' vocals to elevate the success of each track. Contemporary instruments also make their way onto the album: "Crystal Witch" features a prominent electric guitar and "Technicolor Town" utilizes a simple hip hop beat that works surprisingly well with the twangy acoustic guitar. 
This combination of new and old is constant theme on the album, and it pays off. Merlynn Belle acts as a kind of time traveler, taking on the stylings of old, but also existing as a product of its time. This isn't your parents' folk music, and thus the band provides a doorway tailored to a new generation of listeners. With Robbins vocal talent and Chronis' musical sensibilities, Tele Novella is a powerful duo, breaking ground as the blend genres. Finding a niche in today's saturated music market is no easy task, but maybe the group's success in that department is indicative of more success to come. 
Noah Haynes
Favorite Tracks: Words That Stay, Won't Be Longe, One Little Pearl, Paper Crown, Technicolor Town
Picture credit comes from: https://telenovella.bandcamp.com/album/merlynn-belle