---
Let's be real: There's so many shows out there now – between Hulu and Netflix and Amazon and our dear old Cable – that there's simply not enough time to watch it all. And even if you do start a new series, who's to say what's worth watching?
Well fret no more! Our column "Why Aren't You Watching" has got you covered, with almost weekly suggestions on some great shows all within binging distance!
---
The New Year is full of new possibilities, and full of new opportunities to start some new shows! But, if you're already bogged down with resolutions, how about trying a show that's not new, but also… kind of is?
"Brooklyn 99," a comedy following the antics of one NYPD precinct starring Andy Samberg, Andre Brower, Chelsea Peretti, and Terry Crews, was recently cancelled midway through their season in 2018. Following this decision, fans of the show almost immediately took action, starting a viral campaign spearheaded by celebrities such as Sean Astin, Mark Hamill, Guillermo del Toro, and Lin-Manuel Miranda; the hashtags "#SaveB99" and "#RenewB99" were trending on both Twitter and Instagram.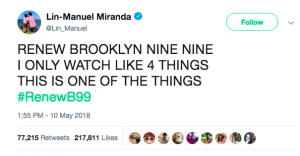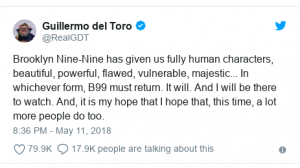 The attention that this campaign gained was enormous, generating countless articles, new viewers, as well as the attention of other cable networks that could possibly be interested in continuing the series that Fox had let go. Before the end of "Brooklyn 99's" fifth season, it was officially announced that NBC would be picking up the show, much to the excitement of the fans, and would be starting the sixth season in January 2019.
"Brooklyn 99" is indeed a comedy at heart, filled with silly antics and wild situations, but what keeps it relevant – not to mention keeps such loyal fans – is the fact that the writers are not afraid to tackle real world issues within the show. Episodes like "Beach House," "Game Night," and "Moo Moo," take on racism, homophobia, and racial profiling delicately but pointedly in a way that most other sitcoms cannot. Episodes like these are filtered in throughout the series, and find the balance in dealing with these serious themes and getting a specific point to the audience, without losing viewers expecting only a half-hour of laughter.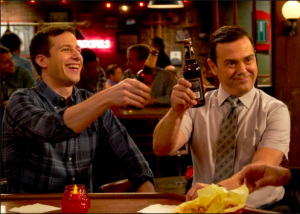 The most interesting aspect about this show comes from how each character subverts expectations: Terry is seen as the strong, tough "muscle," though starts the show off by being on desk duty because he's afraid of getting hurt and not being there for his children. Charles Boyle could be the creepy, over-sharing clingy character, but instead he is embraced for his quirks, celebrated for his dedication to his friends, and even has his own character arc that does not call for him to change his fundamental values as the show goes on.
And that's only to name a few.
The writers of this show undermine the viewer's expectations of common television casting and types to make more dynamic and interesting characters that only enhance the show as a whole.
"Brooklyn 99" is a delightfully crafted show jam packed with witty lines and intricate stories surrounding a sincere group of characters that are constantly changing and developing. It's these characters that draw the audience in, and allows the show to be anything but a comedy about bumbling cops who cannot do their jobs. Individually, each character is strong and competent, and real-life situations are heightened, finding humor in the serious, and creating a unique cop show that keeps viewers coming back each week for more.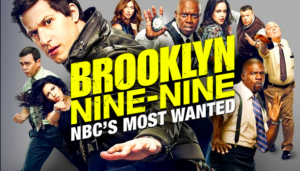 The first episode of the new season premiered last week, and new episodes of "Brooklyn 99" air Thursdays 8PM CST on NBC. Previous seasons can be found on Hulu, and can be purchased on Amazon Video.
[Promotional photos courtesy of NBCUniversal]
[Tweets Courtesy of Twitter.com]