Ariana Grande dropped the music video for "thank u, next"  at midnight November 30, and listeners far and wide went wild. The song dropped only three weeks ago and has peaked at #1 Billboard's Top 100 for all three weeks.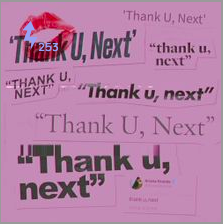 It is Grande's first career #1 single, with "Bang Bang" and "No Tears Left to Cry' both peaking at #3.
Written as a half-tribute to her past loves, "thank u, next" addresses Grande's relationships with Big Sean, backup dancer Ricky Alvarez, Pete Davidson, and Mac Miller. Each of these relationships were widely public and each had drastically different endings that were equally public; however, instead of focusing on the hurt and dwelling on these men, she skips past their mentioning and instead looks to herself and how each of these men forced her to change and grow.
Grande sings: "I've got so much love / Got so much patience / I've learned from the pain / I turned out amazing"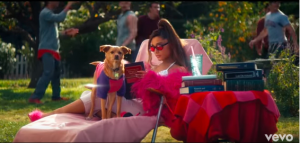 Rather than a love song for these men, she acknowledges her past and the shortcomings she's faced, but how they made her strong and able to handle herself better now for it. It is an optimistic song, and anthem for herself, and in creating it, Grande has reached new levels of confidence and empowerment.
So, it's no big surprise that the music video accompanying such a "Girl Power" song is filled with recreations of scenes from iconic female-driven films. In the video, Grande recreates favorite scenes from "Mean Girls"  (the Christmas dance routine and Burn Book); "Legally Blonde" (a revamped Bend and Snap!); "Clueless" goofiness; sideline routines from "Bring It On" and a scene from "13 Going On 30" that had even Mark Ruffalo (an cast member of the 2004 film) tweeting about the song.*

Each of these films follow a female lead as she faces heartbreak – think Elle Woods being dumped because she "wasn't smart enough" – and an uncertain future that makes them begins to second-guess all of their choices – the Toros finding out that all of their cheers were stolen.
But, these stories all have a come-back, a happy ending: the characters find their voices – Jenna publishing her honest "Poise" photoshoot – find themselves, and come out of their situation with a deeper understanding of their place in the world – Caty being comfortable enough to give up her status as Queen Bee.
But these films are also goofy, never taking themselves too seriously, and in the spirit of that, neither does Grande. With over-the-top outfits, a cameo from Jennifer Coolidge to reprise her role as Paulette, Kris Jenner, Troye Sivan, and the almost the whole "Victorious!" cast coming together to dress up and lend their support, Grande shows that she can laugh at herself, too.
By the end of the video, she's at ease, she's having fun, and she's at peace. And that's really what the song is about, anyway.

[*Courtesy of Twitter.com], [Gif courtesy of Giphy.com]
[Feature Image courtesy of Insider]