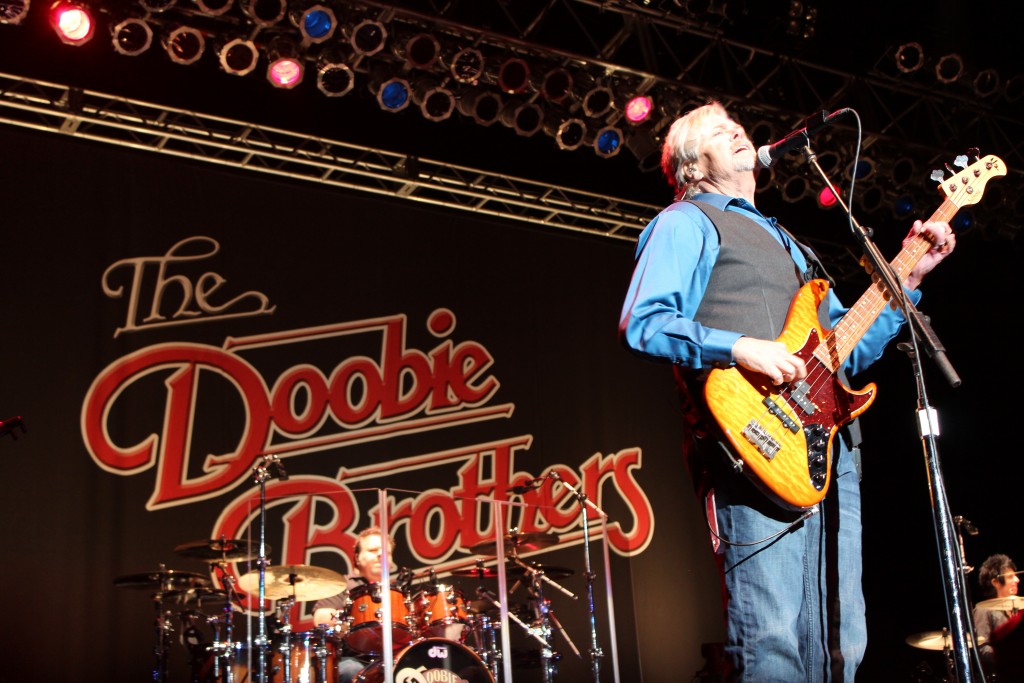 In his 27 years with the Eagles, Don Felder almost never got to sing lead, but Saturday night at the Verizon Wireless Amphitheater in Alpharetta, GA he proved he has the chops to take center stage.
In his nearly one-hour set opening for the Doobie brothers, he poked good-natured fun at his former bandmates as he played a string of their hits from the 70s, including "Already Gone" "Tequila Sunrise" and "Heartache Tonight." His backing band featured musicians who have played for the likes of Mick Jagger, Ringo Starr and fellow Eagle Joe Walsh. "Fingers Felder" delivered faithful arrangements of the old standards, showcasing his gravely but strong vocals.
His famous double neck Gibson SG made an appearance for the show-closer, "Hotel California" – featuring the Doobie's own John McFee (check out our interview with McFee here). Hearing "Hotel California" played live by someone who wrote it is nothing short of a spiritual experience.
The Doobies took the stage beneath a full moon and kicked things off with a rollicking version of their gospel-soul hit "Jesus is Just Alright." They hit all the high notes on tracks like "Riding Down the Highway," "Long Train Running" and "China Grove," songs that lead guitarist Patrick Simmons described as "hippie-redneck music."
One of the highlights of their set was an extended jam on Sonny Boy Williams' "Don't Start Me Talking" featuring Don Felder.  Simmons battled it out with Felder, trading riffs and laughs across the stage. "Black Water" took a funky turn thanks to the saxophone stylings of Marc Russo, who was quite possibly the star of the evening with his solos and groovy accompaniments.
An energetic crowd of mostly older fans was cheering through both artists' sets. One fan, who was celebrating his 60th birthday, had attended over 50 Doobie Brothers shows in his lifetime.
The Doobies ended the evening the only way they could, with a faithful and energetic rendition of "Listen to the Music" that had the entire amphitheater on its feet, swaying to the beat.
Time has not slowed down Felder or the Doobies, if anything, it's given them a chance to perfect their craft. The harmonies and riffs were as sharp as ever. They were at ease on stage as if performing for a group of old friends from a book of songs that fit like a well-worn pair of blue jeans. As the Doobies say, "what the people need is a way to make them smile, it ain't so hard to do if you know how," and they do.