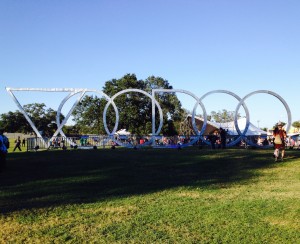 One part costume party, one part carnival, one part music festival, Voodoo Music + Arts Experience is New Orleans' favorite Halloween party. Held annually in New Orleans City Park, Voodoo goes beyond a concert into the realm of a supernatural ritual, with the tagline "Worship the Music." The 15th annual festival featured headliners Outkast – celebrating their 20th anniversary, Arctic Monkeys and Foo Fighters; but included a diverse lineup of artists from Skrillex to Slayer. WVUA-FM attended Voodoo Fest this past Halloween weekend and experienced the ritual firsthand.
An unseasonably cold Bayou wind swirled though the trees, dripping with Spanish moss that reflected the red lights from the stages. Festival attendees were decked out in costumes equally creative and controversial; from classics like unicorns, Chewbacca and multiple Elvis impersonators, to the boundary-pushing priest and topless mermaid.
The headliners were spectacular, as expected. Outkast had every millennial shaking it like a Polaroid picture to "Hey Ya." Arctic Monkeys brought their slinky riffs from across the pond with lead singer Alex Turner's James Dean-inspired leather jacket and sunglasses. Foo Fighters were the undisputed champions of Voodoo; previewing songs from their new album Sonic Highways and rocking out on old favorites like "The Pretender" and "Monkey Wrench."
But some of the highlights of the festival came from smaller acts in more intimate shows. This list is by no means comprehensive nor definitive, but here are some of the memorable shows that didn't make the front page.
Five of the Best Non-Headlining Acts
Benjamin Booker is the next big thing or perhaps Louisiana's best-kept secret. He sings like Ray Lamontagne and plays like John Mayer but his sound is utterly unique. It's a mix of garage rock, blues, folk, and punk that shouldn't work, but it does – and then some. The New Orleans native brought explosive energy with just a drummer and a bassist backing up his soulful guitar musings. The first half of his set rollicked along at breakneck speed, with Booker in a denim jacket, black hat and a feather boa leftover from Halloween. The second half alternated between folksy acoustic numbers – with the addition of a fiddle and steel pedal – and slow, bluesy tracks in which Booker wrung every soulful note from his scratchy growl, as if at any moment his voice might completely give. Highlights included "Slow Coming", "Old Hearts", "Spoon Out My Eyeballs" and the current single "Have You Seen My Son."
  21 Pilots provided some of the most unique musical moments of the festival, including ukulele versions of Beyonce's  "Drunk In Love" and Elvis' "Can't Help Falling In Love." Tyler Joseph talked almost as fast as he sang, darting around the stage, crowd surfing, doing back flips. He also changed costumes several times from an all black body suit to a full body skull costume to a floral kimono. The opening number "Guns for Hands" was full of energy as was the VMA nominated track "Holding Onto You."
Lauryn Hill may not have been a headliner, but her set grabbed the most headlines Sunday morning after her she was unceremoniously booted off the stage halfway through her set. After starting her set 45 minutes late, Hill's mic was cut off in the middle of a cover of Fugee's "Ready or Not" and the stage went dark to start soundcheck for the next show. She was given the opportunity to finish her set on a different stage later that night, for which she was also 45 minutes late. WVUA-FM only attended Hill's first set; but, despite the delays she was a powerhouse on stage. Her commanding vocals along with a stellar backing band combined elements of reggae, blues and funk.
The Wild Feathers from Nashville have a harmony-driven country rock sound reminiscent of The Eagles and Poco. The five-piece outfit filled the ark-shaped Flambeau Stage with their signature blend of bluegrass and rock that would not have been out of place in Laurel Canyon in the 70's. All five traded off on lead vocals, with Ricky Young's smooth bluesy tone melding effortlessly with Joel King's roughrock growl. Their late-afternoon twelve- song set ranged from the hard-rocking "Backwoods Company" to their soaring closing number "The Ceiling."
John Butler Trio had by far the highest proportion of "Steal Your Face" regalia among audience members, but their set went beyond the typical spaced-out noodling of traditional jam bands. The Australian rock-roots outfit grooved through "Better Than" and "Blame It On Me" before slowing it down for the ethereal, acoustic "Ocean." The set centered on Butler's astoundingly versatile musicianship, which saw him on eclectic lead guitar, twelve string acoustic, banjo, harmonica and ukulele. There were moments of extended jamming, but the hour-long set had an energetic urgency that belied the jam band moniker.
Bonus Round: Thirty Seconds to Mars – Jared Leto and Co.'s Saturday night set is worth mentioning for sheer shock value. Leto came out on stage dressed in purple priest's robes and a gold crown, a not so subtle nod to all those Jesus Christ comparisons. Perhaps the most theatrical show of the whole festival, the band was accompanied by colored strobe lights, heavy fog, dramatic background videos featuring lyrics and Leto's piercing stare throughout a series of different hairstyles. Leto worked the crowd, running around the stage, calling people out for not "getting the f*** down", and at one point waltzing through the center of the crowd (accompanied by bodyguards) and then climbing up on the AV stage and singing while hanging off the railing. Their set featured hits like "Kings and Queens" "Search and Destroy" and the rousing sing-along "This Is War" as well as a cover of AC/DC's "Back in Black."