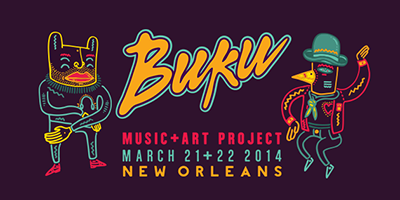 Still looking for something wild to do this Spring Break? Look no further than the madness that is Buku Music + Art Project. The festival will be March 21-22 and will definitely kick off your Spring Break the right way. Don't believe me? Keep reading.
1. It's in the heart of New Orleans. Personally, I've always had a crazy/fun/amazing time in New Orleans. It's a city that's constantly pulsing with music and culture. Add thousands of Buku fans and some excellent headliners, and it's definitely a party you won't want to miss. Speaking of headliners…
2. The music will be hopping. The Flaming Lips, Sleigh Bells, Explosions in the Sky, Zedd and Tyler, The Creator – just a sampling of the diverse talent that will be headlining this year's festival.
3. The Buku Graffiti Wall. Any and all graffiti artists are encouraged to make their mark on the festival. And it's awesome.
4. You're not at a "festival grounds." You don't just watch bands on stages. You watch bands on the Power Plant stage, which is flanked by the Mississippi River and an operating railroad, and set against the backdrop of a (seemingly haunted) power plant. Or you go to a dance party in a warehouse filled with Mardis Gras floats. Wide open spaces? Psh, that's so 1969.
5. The VIP Lounge is a river boat. VIP pass holders don't just get a room. They get an entire boat, complete with special performances. All aboard the S.S. BLU-KU, y'all.
Ticket information can be found at thebukuproject.com. Let's get #tooBuku this Spring Break.