By Taylor Wray
Click on the link to watch a video tease for this story: (Social media element) https://www.youtube.com/watch?v=B5CeAQtb_qQ&feature=youtu.be
Click here to listen to the story: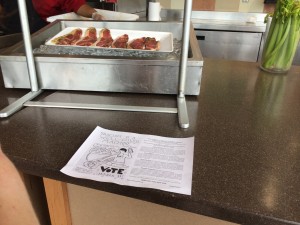 An anti-Machine flyer near the food service area of Fresh Foods dinning hall on election day. (Taylor Wray)
 "The word the machine is sort of enough… it is a political machine designed to keep a particular group of power, a particular political regime–mainly the old row fraternities and sororities in control of student government"
That was Matt Mecoli, the president of United Alabama Project, a student group aimed at restoring citizenship through political advocacy and student engagement.  Mecoli says the machine has dominated UA's SGA elections since its existence.
"The machine has maintained almost unbroken political control of the university for a century…and that's astounding and frankly impressive…they're very good at what they do"
Francis Viselli, former owner of Tuscaloosa's Bama-Bino pizzeria says his son, Joe, an independent, ran for SGA president in 1989.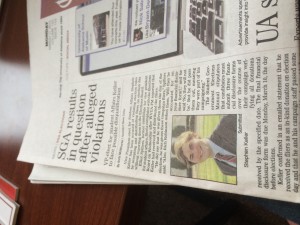 Other media outlets, including the Crimson White have picked up on the story in part due to Keller's alleged Machine ties. (Taylor Wray)
[FRAN VISELLI] "He was doing it because he felt it was moral obligation to run against the machine and bring equity to the negro representation at UA, and not be just a machine driven representation of the university."
Not only was Joe defeated, but Viselli says the machine ran Bama Bino's out of business.
"They went ahead and boycotted us to the tune of 400 thousand dollars in one year, and we lost our business in 1991. We almost totally had no pizzas going to the machine pizzas fraternities and sororities…there were 26 or 27 at the time."
Viselli says if fraternity or sorority members violated the boycott, the penalty was a fine up to 25-dollars.  Rumored violence, sabotage and deception runs deep in the veins of the machines campaign trail.  Mecoli says the tactics tend to change between leadership.
[MATT MECOLI] "You'll have a couple years where things tend to be non-violent then years where you tend to have more violent action. When the Machine is threatened, they tend to get a little more violent, much like an animal backed into a corner."
With student voter turnout at only 29-percent on SGA election day, the Machine was able to win every executive position, including the vice presidency of student affairs won by Stephen Keller.
This story is part of an ongoing series on campus corruption. 
Capstone News Now is the flagship news program of WVUA-FM and is on the air every Monday-Thursday from 3:30 to 5:00 PM.