What has been speculated and since the end of the football season and been hoped by many Alabama fans has finally become a reality for the Crimson Tide.
Jacob Coker, former Florida State quarterback who ended up losing the starting quarterback job to 2013 Heisman Jameis Winston has decided to take his talents to Tuscaloosa after visiting over the weekend.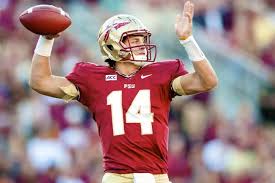 "I feel very comfortable with the coaches and players, and I'm looking forward to getting started in Alabama and competing" Coker said in a recent interview
Coker, a native from Mobile still has 2 years of eligibility left on his NCCA playing career and the SEC 1 year player ban will not be a threat to him in the end for eligibility purposes. Coker is expected to enroll this summer and begin fighting for his chance to play in the 2014 season.
Now that it's all said and done, who will be Alabama's starting quarterback in 2014?
Since many people believed this move was inevitable, one would have to think that Coker is definitely the front-runner for next season. Of course for every positive reason to have Coker start there is a negative with it. Let's look at the positive moves on why Coker would fit in the Crimson Tide's offense.
First off, Alabama's offense will be completely different next year after the hire of new offensive coordinator Lane Kiffin. Kiffin is already looking to find the heir to replace AJ McCarron and now he has someone new to work with. Kiffin has been able to take brand new quarterbacks in the past and transform them into Heisman contenders (take Matt Barkley for example) Also, since Kiffin is bringing a new offense, the job won't be closed til probably after the end of summer camp, just as students are coming back to school
Second, even though Coker is going to be the newest face to the Crimson Tide, Coker does have some leadership experience and has seen the playing field before. In two seasons at Florida State, Coker completed close to 60 percent of his passes, 250 yards with a touchdown and interception. Not to mention he did work all the way down to the wire last season for the starting job with Jameis Winston before finally losing it. His leadership skills and competitive attitude will definitely give him a good chance to compete when he arrives in Tuscaloosa this summer.
Finally, his size and arm are out of this world. Standing at 6'5 230 pounds, Coker is a giant ball of power and is able to make plays on the run or in the pocket. Not to mention both players and coaches have said that is arm is nothing short but of an ideal quarterback.
"He's has a strong arm. He can run, he can use his legs and he's a smart guy. He has a pinpoint ball. He's a great quarterback." Florida State wide receiver and former teammate Rashad Greene said when asked about Coker's talent.
(Morris #11 (Left) and Bateman #18 (Right))
There some negatives to not having Coker make an immediate impact this offseason. The first and probably most noticeable is of course, he's still in Tallahassee getting ready to graduate. Since Coker can't just pull out of school mid-day, he won't be in Tuscaloosa over the spring semester to compete and show his talents off at A-day. While this is a con for Coker, this is a positive for every other Alabama quarterback in the system. This will give top candidates like Cooper Bateman and Alec Morris a good chance to prove to Coach Saban and Kiffin that they are the future and ready to take over the kingdom known as Alabama football. This is also is a chance for incoming freshman David Cornwell to compete for at least a number 2 slot if not the actual Starting job as well.
There's also the reputation that will follow Coker to Tuscaloosa the minute he steps on that practice field. With all this hype around Coker's name and ability to throw, he is definitely going to be the front runner for the starting job in August in the minds of many. Not to mention, he did compete and almost beat out Winston last season for the starting job with the Seminoles. On top of it all he­, (or whoever gets the starting job) will be remembered as the guy who replaced McCarron, a three time national champion. His hopes of taking Alabama back to the title game all now rely on if he can handle the pressure. However, keep in mind that Jay Barker, Greg McElroy and AJ McCarron all won National Championships in their first seasons as the starting quarterbacks.
Even though Alabama football is still a long ways away, the competition has grown more and more as the days go by. There's still a lot to do in Tuscaloosa before kickoff in Atlanta against West Virginia in August, but also there is so much to look forward to while waiting for the season to begin. Although even there hasn't been any news on who's the front runner for the quarterback position, one can't think that Coach Saban wouldn't bring in a new quarterback if he didn't think he'd be the front runner. Coker has a lot going for him and will be definitely be a front runner for the starting job, but just for now; welcome to Tuscaloosa Jacob Coker and Roll Tide.