The first quarter of Alabama's trip to Lexington, Ky., saw the Crimson Tide gain the ball four times: punt, lost fumble, lost fumble and end of quarter.
Also in the first quarter: the Tide gained 154 yards on 23 plays, with 10 first downs.
Alabama head coach Nick Saban is choosing to look at the latter – the quality of play – over the former: results.
"Like most people in the world, you people are all result-oriented," Saban said. "Because we moved ball down the field three times in-a-row and we dropped a pass on third down and fumbled it twice – once on the 5-yard line and once on the 15-yard line or whatever – my question is how did we get there to start with? Did we play horribly bad to move the ball down the field to get it to the 5-yard line?
"I didn't think we started off slow. I just didn't think we finished the drives like we needed to to cash in."
(RELATED: Click here to see video of Nick Saban's press conference.)
Saban used the other side of the ball to prove his point.
"I think we went three-and-out several times on defense," Saban said. "So I'm not sure they started slow, either.
"But like everybody in the world, if you don't get the results, don't get the immediate self-gratification – instant coffee, instant tea, instant everything – it's bad. Well, the bad things were the fumbles and the dropped balls. So you gotta be technical about what was bad. Just because we didn't score the first three times we had the ball even though we moved the ball down the field, doesn't necessarily mean it was all bad."
Mimicing McCarron
Leaders would not be leaders without followers. Alabama quarterback AJ McCarron has just that: scores of followers that make up the team that acts on his every command, at the line of scrimmage and in the locker room.
Scores of followers, then one special one: freshman walk-on quarterback Luke Del Rio.
"I kind of mess with him. He's always around me trying to learn everything," McCarron said. "Sometimes you've got to try to hide from him, get away."
Having seen maybe a little too much of Del Rio, McCarron sees a great future for him.
"He's a really smart kid, throws a really good ball, and I think he's going to be a heck of a player in the future. I really do," McCarron said. "Luke has been very good. I like Luke a lot."
Clinton-Dix remains in question
Saban's message on indefinitely-suspended HaHa Clinton-Dix remained the same as the saga nears the two-week mark.
"I can't update you because we don't have any new information," Saban said. "When we do get new information, we'll certainly be glad to give it to you.
"I think he's done as good a job in trying to practice and continue to improve working and practicing on scout team as anyone could. I'm sure it's a difficult circumstance. Nobody that is a true competitor likes not to be there for his teammates."
Same face, new place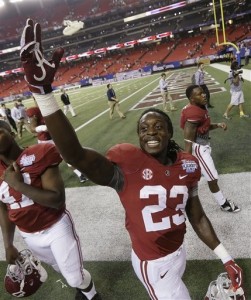 The Southeastern Conference benefits from an incredibly-rich talent basin in the Southeastern United States, and has exploited that regional access to the best football in the nation.
It also creates some awkward encounters. Anthony Steen, native of a town in Mississippi just 65 miles away from Ole Miss and double that away from Mississippi State, has high school classmates sending him trash-talking text messages throughout the week leading up to those annual matchups.
This week, Alabama's lone native Arkansan, freshman running back Altee Tenpenny, is going to face his homestate team that sometimes plays in his hometown of Little Rock.
"Altee's done a really good job for us. He's played on several special teams and does a really good job in that regard," Saban said. "He's gotten to play some and plays fast and is explosive.
"I just think that with a lot of the freshmen, they have high expectations for what they want to accomplish. But I think the realization of what they need to do to improve every day to become complete players at their position is really critical to their development. I also think as with most freshmen who are playing, they have a lot to learn."
The one that got away
Cyrus Kouandjio. Brent Calloway. Reuben Foster. Dee Liner. All are current Alabama players that switched from an SEC rival to Alabama on National Signing Day. The trend has been well-documented since Saban's first day in Tuscaloosa.
Alabama has been on the losing side of that battle, however. It was on Arkansas defensive end Darius Philon, who now is in the top three for the Razorbacks in tackles for a loss with six in seven games. Philon has tallied 18 tackles total with three sacks, two quarterback hurries and a forced fumble.
"We think a lot of Darius. He was a very, very good high school player. Had great quickness," Saban said. "We certainly though a lot of him and not surprised at all that he's done extremely well at Arkansas and that he's playing well for them and may have an opportunity to start this week.
"We'd love to have him in our program here. It didn't work out that way for us. As everybody that we recruit, we want to see him do well wherever they end up going."