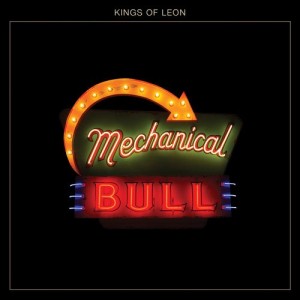 Fresh off a three year hiatus since their last album, Kings of Leon appear to have a newfound sense of energy, and it is this energy that runs rampant through the recently released Mechanical Bull.  With their sixth album, the southern rockers from Nashville have gone back to the upbeat, in your face, garage-rock sound that first brought them to national prominence.
The word that first comes to mind while listening to this album is "honest."  These songs don't seem crafted for public attention; rather, there is an aura about the music that screams, "This is who we are.  Take it or leave it."  As a result, Mechanical Bull is much more authentic and natural than some of their most recent records.
The album plays well from beginning to end, though some songs do stand out a notch above the rest. "Supersoaker" opens the album with rhythmic beats and a pulsating energy which provides a soundtrack for the whiskey-fueled weekends the Nashville natives have likely grown accustomed to.  On the opposite spectrum are "Beautiful War" and "Comeback Story," which feature emotionally-laden lyrics of a lover's quarrel amidst a more subtle, restrained harmony.  The former highlights sentimental longing, "When I hold the warmth of your body/There is nobody that I'd rather hold," while the latter focuses (with a healthy dose of sarcasm) on the 'good riddance' aspect of a fight: "I walk a mile in your shoes, and now I'm a mile away/And I've got your shoes."
An argument against this record is that the Kings don't take too many chances.  With three years between albums, some might expect them to switch things up and try something new.  But they stick to their comfortable, familiar, southern-rock sound and never venture too far beyond that, resulting in a similar sound reverberating throughout the album.
And that's exactly what makes Mechanical Bull successful: it is unabashedly, unapologetically the genuine Kings of Leon sound.  It wasn't produced to top the charts—though it is currently sitting on the second spot of Billboard's Top 200—but was created simply because the band members love making music.  The album will likely end up as one of their more successful works, and the refreshing return to the core of their music is certainly worth a listen.