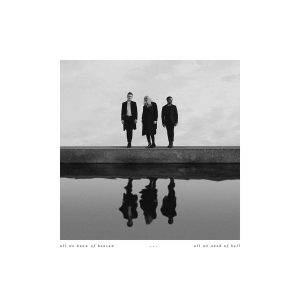 By: Grant White
The Massachusetts trio PVRIS is back with the release of their second album All We Know of Heaven, All We Need of Hell on August 25. This sophomore effort responds to their debut White Noise, which came out in 2014 and incorporated elements of both rock and electronic sounds; it is again produced by Blake Harnage. The band lineup remains the same with Brian MacDonald on bass, Alex Babinski on lead guitar, and Lynn Gunn on lead vocals and rhythm guitar. If you have never heard of this alternative band, I suggest you give both of their albums a listen.
Listeners expecting a rock dominated album may be slightly disappointed, as most of the songs here carry along an experimental pop sound. Because of this, I highly recommend fans of artists such as Florence + The Machine to give it a listen.
After listening to the album multiple times across the past week, I believe that PVRIS expands upon its unique hybrid sound that made its first album such a success, and Lynn Gunn's bleaker lyrics fueled by heartbreak shrouds the album in an even darker atmosphere. This helps the band further establish its own sound among other artists, breaking it away from its former emo rock vibes that made the first album's style sound similar to that of early Paramore.
Despite how the album leans more towards an electronic sound, songs like "No Mercy" still show how crushingly hard PVRIS can rock when it wants to. Lynn Gunn establishes in the vocally dominant song "Same Soul" that she's not just a clone of Hayley Williams, and in some instances, Gunn even outshines her. The bleak lyrics establish a brooding atmosphere in each song, allowing many of them to start out relaxed and loom in a chill vibe until broken suddenly by a crescendo of heavy riffs, loud percussions, and screaming vocals. Others like "Nola 1" maintain a constant mellow beat that gives off a relaxing and calming feeling towards the album's end.
The lyrics that make up the catchy first single and album opener "Heaven" establish the overall bleak tone of the album early on. The line "Don't need a metaphor for you to know I'm miserable" from "What's Wrong" is a perfect example for what the lyrics of this album have to offer to listeners. "Same Soul" displays Gunn's skill in screaming poignant lyrics into the hearts of her fans, connecting the badass sound of this song to the White Noise hit "St. Patrick."
Overall, PVRIS takes a step in the right direction with All We Know of Heaven, All We Need of Hell as they continue to make a name for themselves, create original, chilling vibes, and do it all so well. The immediate stand-out songs in my opinion include "Heaven", "No Mercy", "Same Soul", "Half", "Anyone Else", and "What's Wrong," though because we all have differing tastes in what stands out to us, I suggest you listen through all 43 minutes so you can decide which of these songs gives PVRIS its true voice in music.
The entire album is available for listen on Spotify, Apple Music, iTunes, and YouTube as well as other platforms, so there is little excuse you can have for not at least checking it out.