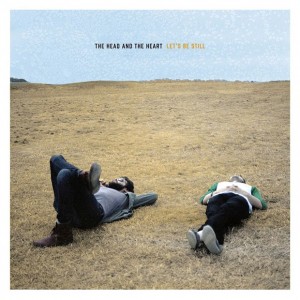 With their 2011 self-titled debut album, The Head and The Heart crafted a rustic, indie folk-rock sound which built up a legion of fans, leading to a highly anticipated follow-up album in "Let's Be Still."  As one of those fans, I eagerly awaited the arrival of my pre-ordered copy.
When the album arrived, I was surprised to find it was not the same band which I had fervently suggested to anyone who would listen to me.  Rather, The Head and the Heart had continued to grow and evolve, their music slightly morphing in the progress.  At first listen, I felt a bittersweet nostalgia towards the first album, upset that the music had strayed from the comfortable sound I was accustomed to.  But as I continued to play their songs, I realized the band themselves had become so much more dynamic and polished, producing an album with much more ambition and scope.
The first album was filled with raucous energy alongside hand-clapping beats and easy-listening melodies: the hypothetical product of an affair between Mumford & Sons and The Lumineers.  While "Let's Be Still" retains some of this energy, it leans more heavily on emotional lyrics and acoustic ballads.
The Head and the Heart do an outstanding job profoundly capturing humanity and the essence of human emotion centered on a sense of melancholy.  A prime example lies in "Another Story" where lyrics reflect on the confusion of having to process the tragedy at Sandy Hook Elementary School, "Every time I head another story/Oh the poor boy lost his head./Everybody feels a little crazy/But we go on living with it."
That's not to say the entire album is built around depressing themes.    Rather, the album is trying to get the audience to think, the title itself hinting to the philosophical and existential framework of the album.  While the band isn't quite saying, "Let's sit around and ponder the extravagance of life," it is inviting listeners to be still for a moment and think about what it means to be human.
The Head and the Heart took a pretty big risk on their second album by straying away from what made their first album a rousing success.  Ultimately, they succeeded in producing a quality album—though slightly less complete than the first.  Nevertheless, it's a "must-listen" for anyone with a taste for music with a hint of folk or eclectic flair.  So just for a moment, take a listen, and be still.