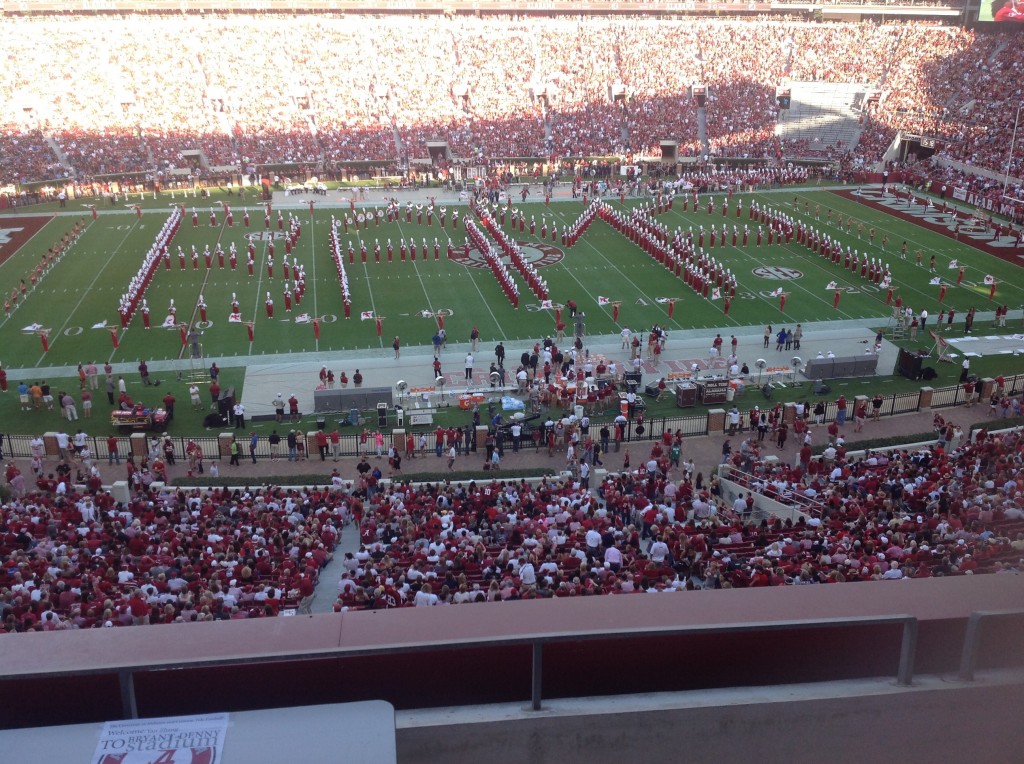 Here is your hub for in-game coverage of Alabama's first SEC home game of the 2013 season, against the Ole Miss Rebels. I, Brett Hudson, will be posting live stats, analysis and more here, with some photos and video as well. Stay tuned to our football coverage hub for postgame coverage, and tune in to 90.7 WVUA-FM an hour after the game for the Postgame Report. You can listen to that in Tuscaloosa on 90.7, online here, or on your mobile with the TuneIn App.
For more on in-game coverage, follow me on Twitter: @Brett_Hudson.
Third Quarter
– 6:03. Interesting personnel grouping. Alabama put the following four players on-the-line with a hand-in-the-dirt on a second down passing situation: Xzavier Dickson, Brandon Ivory, A'Shawn Robinson and Denzel Devall.
– 6:53.
AJ McCarron is now 25 of 28 for 180 yards with completions to eight players.

— John Zenor (@jzenor) September 29, 2013
– 10:21. The passing game is clicking on all cylinders. As the protection has gotten better, wide receivers have just magically found bigger openings in the defense. Credit halftime adjustments, credit the run game, whatever. Much improvement.
– 14:08. Alabama used the screen on the first play to its advantage to setup that touchdown run. The formation was three wide receivers to the left with Christion Jones on the far inside. At the snap, Jones ran a bubble screen behind two lead-blocking wide receivers…as a decoy. While the defensive backs and linebackers looked over, T.J. Yeldon was getting a handoff. All he had to do was make one, maybe two, defenders miss and turn it into a footrace. He did. Easily. Alabama 16, Ole Miss 0
Halftime
Stats
Rushing Yards: Alabama 36, Ole Miss 7
Passing Yards: Alabama 135, Ole Miss 111
Total Yards: Alabama 171, Ole Miss 118
Time of Possession: Alabama 19:09, Ole Miss 10:51
AJ McCarron: 20-23, 135 yards, 0 touchdowns, 0 interceptions
Bo Wallace: 10-14, 111 yards, 0 touchdowns, 0 interceptions
T.J. Yeldon: 10 carries, 32 yards
Kenyan Drake: 4 carries, 2 yards (one carry of five yards)
Jeff Scott: 3 carries, 7 yards
Kevin Norwood: 5 catches, 40 yards
Kenny Bell: 4 catches, 23 yards
Christion Jones: 3 catches, 33 yards
T.J. Yeldon: 3 catches, 16 yards
Donte Moncrief: 5 catches, 49 yards
Laquon Treadwell: 2 catches, 40 yards
C.J. Mosley: 4 tackles
Eddie Jackson: 3 tackles, 1 interception
Notes
– Alabama held its opponent scoreless in the first half for the fifth time in its last eight games tonight. Colorado State failed to do it, as did the following 2012 opponents: Western Carolina, Auburn and Notre Dame.
– Cade Foster's impressive first half not only set a new career-high for field goals made in a half (three), but also set a new career-high with his 53-yarder.
– Alabama is 65-3 under Nick Saban when leading at halftime.
Parting Thought
– Alabama's offense, overall, has been better than its nine points. Poorly-timed penalties did not help, but an inconsistent run game is what really killed Alabama. Here is a list of Alabama's run plays in the second quarter by gain/loss: loss of 3, 1-yard gain, loss of 4, 1-yard gain, 3-yard gain, 4-yard gain. Nowhere near good enough.
Second Quarter
– 10 seconds. Ole Miss came with a double stunt on the defensive line (tackles crashed to the outside, ends looped around to the inside). Hoping that would create the pressure, the linebackers dropped too far back in prevent and left a hole wide open for T.J. Yeldon to scamper into field goal range. A quick out later and Cade Foster tacks on his third field goal of the game to end the half. Alabama 9, Ole Miss 0
– 25 seconds. Alabama's first true two-minute drill situation of the season was going pretty well, until it started shooting itself in the foot after it crossed the 50-yard line. Austin Shepherd charged with the false start and Alabama uses its final timeout to avoid 10-second runoff.
– 2:19.
Bo Wallace, 100 yards of offense. #Alabama as a team, 113. #MISSvsBAMA

— Brett Hudson (@Brett_Hudson) September 28, 2013
– 3:09. Alabama and Ole Miss are just separated by four yards. Ole Miss has gained 118, Alabama has gained 114. 111 of Ole Miss' 118 are through the air.
– 3:09. Alabama's punt return unit was frantically pointing at Ole Miss' Robert Nkemdiche before the snap. I guess Alabama saw the Rebels run a fake punt to Nkemdiche that was taken for a big gain and a first down against Vanderbilt.
– 4:42.
#Alabama is averaging just 2.9 yards per carry and 6.3 yards per catch. #MISSvsBAMA

— Brett Hudson (@Brett_Hudson) September 28, 2013
– 5:39.
Longest UA field goal since Leigh Tiffin hit a 54-yarder against Clemson in the Georgia Dome in '08.

— Cecil Hurt (@CecilHurt) September 28, 2013
– 5:44. It wasn't the prettiest of things, but Cade Foster made a 53-yard field goal to extend Alabama's lead. On the drive, two fumbles kept Alabama from getting some potential yards-after-catch that could have moved the chains one more time, but that was not the biggest problem. That was the running game. Alabama only ran twice on that drive, but lost two yards with those two carries. After a big carry or two in the first two possessions, Alabama's run game has been stifled effectively by Ole Miss. Alabama 6, Ole Miss 0
– 6:15. That's two fumbles on this drive alone that Alabama was lucky enough to recover.
– 6:56. As Alabama is driving down the field, almost in field goal range, the offensive line has made som clear improvement. Not quite polished yet, but definitely some steps in the right direction.
– 10:03. Injury update for the Rebels.
CJ Johnson back in the game. #OleMiss

— Parrish Alford (@parrishalford) September 28, 2013
– 10:40. Alabama outside linebacker Adrian Hubbard continues to have his way with Ole Miss left tackle Laremy Tunsil. The true freshman isn't quite up to the task of keeping Hubbard at bay.
– 13:18.
Not on the statsheet, but Adrian Hubbard is having quite a showing. Redirected a lot of #Rebels runs basically by himself. #MISSvsBAMA

— Brett Hudson (@Brett_Hudson) September 28, 2013
First Quarter
Rushing Yards: Alabama 34, Ole Miss 10
Passing Yards: Ole Miss 72, Alabama 42
Total Yards: Ole Miss 82, Alabama 76
Time of Possession: Alabama 10:18, Ole Miss 4:42
AJ McCarron: 7-8, 42 yards
Bo Wallace: 4-6, 72 yards
T.J. Yeldon: 6 carries, 28 yards (one was a 23-yard carry)
Jeff Scott: 3 carries, 7 yards
Christion Jones: 2 catches, 23 yards
Kenny Bell: 2 catches, 12 yards
Donte Moncrief: 2 catches, 25 yards
Laquon Treadwell: 1 catch, 38 yards
– 1:43. True freshman Eddie Jackson in perfect position to intercept that wide receiver pass. Ole Miss freshman Laquon Treadwell received an option handoff and tried to get it over Jackson and underneath the safety help crashing hard from over-the-top. Jackson did what Nick Saban preaches constantly: "high point" the ball.
– 1:59.
Proof Ole Miss doesn't care about time of possession. Alabama, 66 yards in 8:35. Rebels, 56 yards in 3:59. #MISSvsBAMA

— Brett Hudson (@Brett_Hudson) September 28, 2013
– 2:36. Ole Miss responds and forces a three-and-out of its own.
Cody Mandell went straight to his true freshman long snapper Cole Mazza after that high snap for encouragement. First mistake of the year.

— Brett Hudson (@Brett_Hudson) September 28, 2013
For Mazza, anyway. The true freshman replacing @carsontink has been spot-on thus far (at least as this long snapping rookie can tell).

— Brett Hudson (@Brett_Hudson) September 28, 2013
– 4:52. First down. Fantastic read from Trey Depriest, who got to the screen before the running back could get out to the flat to block him. Second down, defense read Bo Wallace (or the play…or both) and swarmed an out route. Third down, Deion Belue gets tested and delivers with an incompletion. 3-and-out for the Rebels offense.
– 6:23. Quick report on Ole Miss' versatile flex man on defense who plays both outside linebacker and defense end.
Ole Miss athletic training staff evaluating CJ Johnson's right ankle on the sideline.

— Courtney Cronin (@CourtneyRCronin) September 28, 2013
– 6:23. Cade Foster ends Alabama's first possession with a -yard field goal. On the drive (as you can see from the tweet posted below), Ole Miss did what Ole Miss does: made some shifts on the defensive line and got into McCarron's grill a little bit. Kudos to McCarron (5-for-5 for 35 yards on the drive), but half-a-step is the difference between two of those completions and a sack. Alabama 3, Ole Miss )
– 7:34.
They don't have a sack yet, but Ole Miss is doing a good job up front of at least getting one guy in McCarron's face to force the issue.

— Brett Hudson (@Brett_Hudson) September 28, 2013
– 9:26. Very brainy move from Alabama offensive coordinator Doug Nussmeier. After getting 23 yards from T.J. Yeldon on the ground from a spread formation, he capitalizes on some overagression by going to a slow-developing screen on the next play. Seven-yard gain, first down.
– 12:04. On McCarron's completion to Kenny Bell, Ole Miss stayed true to its formula: making a lot of shifts up front before the snap. Ryan Kelly did a good job of getting everyone in position, but Cyrus Kouandjio just got beat on a block. That's why McCarron was pressured and was forced short.
– 12:42. The measurement shows Alabama safety HaHa Clinton-Dix got there in time to stop Ole Miss on 4th down. An unbelievable play from him. A safety getting up on an option run in time to stop a 4th and 2 is nice. Even better, it was a veer option, where safety help is (in theory) more essential than the basic triple or read options.
Ole Miss was 5-8 on 4th down coming into the game. Now 0-1. #Alabama defense is fired up on the sidelines.

— Brett Hudson (@Brett_Hudson) September 28, 2013
– 13:01.
Bryant-Denny is not joking around today, folks.

— Brett Hudson (@Brett_Hudson) September 28, 2013
– Opening Kickoff
Pregame
Final Score Prediction
Alabama 31, Ole Miss 27.
I think neither team will get a lead of more than 10 points (and both teams will lead at some point). Ole Miss has done a great job of both recruiting new talent and developing what it already had under head coach Hugh Freeze, but there is always one thing up-and-coming programs like Ole Miss lack that proven programs like Alabama have: depth.
As the Tide rotates in T.J. Yeldon, Jalston Fowler, Dee Hart, Kenyan Drake and whoever else, Ole Miss will have its starters depleted and the fourth quarter will go in Alabama's favor. This is the closest game Alabama will play until LSU comes to town, where all bets are off if the Tigers come healthy.
Alabama's Offensive Starting Lineup
QB: AJ McCarron
RB: T.J. Yeldon (missed the first quarter last week due to suspension)
RB: Jalston Fowler
WR: DeAndrew White
WR: Christion Jones
WR: Kenny Bell
WR: Kevin Norwood (did not play against Colorado State last week)
WR: Amari Cooper (did not play against CSU last week)
TE: Brian Vogler
LT: Cyrus Kouandjio
LG: Arie Kouandjio
C: Ryan Kelly
RG: Anthony Steen (did not play against CSU last week)
RT: Austin Shepherd
Alabama's Defensive Starting Lineup
DE: Ed Stinson
NG: Brandon Ivory
DE: Jeoffrey Pagan
LB: C.J. Mosley
LB: Trey Depriest
LB: Adrian Hubbard
LB: Denzel Devall
CB: Deion Belue (did not play last week against Colorado State)
CB: Eddie Jackson
DB: Jarrick Williams (did not play against CSU)
S: HaHa Clinton-Dix
S: Vinnie Sunseri
Numbers to Know
– 0: Number of points Ole Miss has scored as an undefeated team in Bryant-Denny Stadium. The Rebels have entered Tuscaloosa as an undefeated teams four times and did not score a point in any of the four occasions.
– 10: Number of seasons in which Alabama has won its first home SEC game. Alabama lost its conference home opener to Georgia in 2002.
– 17: This study by Football Study Hall has the Rebels as the 17th fastest offense in the nation. Ole Miss averages just under 80 plays per game, while Alabama averages 64 while possession the ball for 10 more minutes on the season than the Rebels.
– 3.09: Ole Miss ranks 22nd in the nation, giving up 3.09 yards per carry. Alabama ranks in a tie for 58th nationally, allowing 4.04 yards per carry.
– 1: Both teams have only had one possession in the redzone end without points. Ole Miss has had 14 redzone trips, coming away with 11 touchdowns and two field goals. Alabama has had seven redzone trips, coming away with six touchdowns (one fumble against Texas A&M).
– 1988: Last time Ole Miss beat Alabama in Bryant-Denny Stadium. The Rebels have beat the Tide twice since then, both in Oxford and Vaught-Hemingway Stadium.