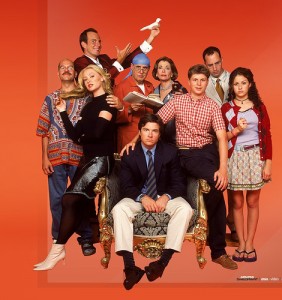 'Arrested Development' fans– rejoice! The dysfunctional Bluth gang is back.
The Fox show, which originally ran from 2003 to 2006, will premiere 15 new episodes on Netflix beginning May 26.
All of the show's original stars including Jason Bateman, Michael Cera and Will Arnett will return for the fourth season, but a few familiar faces will make appearances including John Slattery, Isla Fisher, Terry Crews and Erin Moran.
"That show launched a lot of our careers and everyone is doing great, so to come back together while things are going well is really a fortunate situation," Bateman said in a recent GQ interview.
The Fox series only lasted three seasons and despite its critical success and cult following, the show was cancelled in 2006 for low viewership ratings.
So what about the film adaption to be directed by the show's creator, Mitchell Hurwitz?
"There are many, many questions that these episodes ask that only the movie will answer," Bateman said.
We should've seen a film adaption coming, though. In the final scene of the original series, executive producer and narrator Ron Howard is pitched a Bluth family TV show. He replied, "I don't see it as a series. Maybe a movie."
All episodes will be simultaneously released, just as David Fincher's Netflix show 'House of Cards' did.
We suggest marking May 26 off on your calendar.