Let's be real: There's so many shows out there now – between Hulu and Netflix and Amazon and our dear old Cable – that there's simply not enough time to watch it all. And even if you do start a new series, who's to say what's worth watching?

Well fret no more! Our column "Why Aren't You Watching" has got you covered, with weekly suggestions on some of the better shows all within binging distance!
"The Marvelous Mrs. Maisel"
When someone thinks "period piece," they're most likely not thinking of the quick-talking, witty, and risky content that "The Marvelous Mrs Maisel" is putting out. Shows centered in big cities of the 1950s and 60s has so far been dominated by males situated in a place of power – think "Mad Men," "Aquarius," "The Company," – but creator Amy Sherman Palladino is giving them a run for their money.
Palladino is known for her shows being female-centric and assertive, with arguably her most successful being "Gilmore Girls" which ran for seven seasons, fiddled with a spin-off, and most recently gained a Netflix limited series titled "Gilmore Girls: A Year in the Life" to see where the characters were years after the original series left off.
"The Marvelous Mrs. Maisel" follows wealthy housewife Miriam "Midge" Maisel, played by the hilarious Rachel Brosnahan, through her perfect Upper West Side life with her husband Joel. Midge is charismatic, smart, beautiful, and able to sweet talk her way through just about anything – which is why she is her husband's manager as he tries to get traction in the comedy world: aside from his corporate position, Joel moonlights as a stand-up comedian.
Except he's terrible.
Fast forward: Midge finds herself drunk, in a sleeping gown, at the very same dive club Joel bombed in during his set a few nights before, and generating more laughs than the club has seen in quite a while, just by being herself.
With this realization that she is filled with untapped potential, Midge sees that her whole life could be so much more: the amount of time she spent catering to others, she now spends on herself. Her image changes, she gets a job, new friends, spends time outside of the exclusive Upper West Side, and pursues her own career.
In comedy.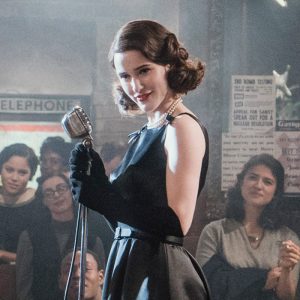 Audiences watch this exceptional housewife use her talents in increasingly impressive ways to overcome gender stereotypes while balancing gender roles of the time. Midge Maisel is determined, persuasive, and above-all, she's confident. She honestly believes that if she just spends the time and puts the work in, she can accomplish her goals, but if these beliefs ever waver, her friend and manager – portrayed by the incredible Alex Borstein – is there to help.
Tony Shalhoub, who led the show "Monk" successfully for 8 seasons in the early 2000s, plays a supporting role as Midge's father. After taking years to create his own small fortune, he now fusses over his only daughter, becoming increasingly concerned with her security, both financially and physically, with every decision she makes. His borderline neurotic behavior creates a humorous and increasingly stark contrast to his only daughter, though their bond never suffers from it.
And that's the most intriguing thing about the whole show itself: set in the 1950s, Midge butchers every conceivable path her life had set before her, she turned her back on the life she was building and comfortable in, challenges not only what a woman can do and is capable of, but how a woman speaks, dresses, and act. But through all this, even as everyone around her disapproves, she still is able to remain close to her family unit, still is able to project her own brand of happiness and optimism into the world.
A funny, uplifting, quirky show, "The Marvelous Mrs. Maisel" is a bright spot in the world of television, and has received multiple Golden Globe and Emmy Awards for its efforts.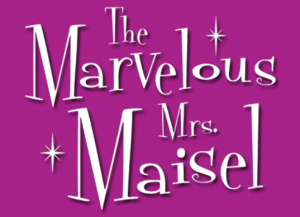 Streaming as an original on Amazon Video, "The Marvelous Mrs. Maisel" just started its second season December 5, 2018.