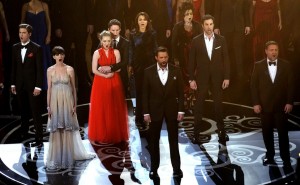 During Sunday's 85th Academy Awards ceremony, saluting music through film stole the spotlight.
Seth MacFarlane's opening musical number aimed to make us laugh and swoon over the dancing and singing skills of Joseph Gordon-Levitt, Channing Tatum and Daniel Radcliffe.
Other musical performances brought tears to our eyes, especially so when the cast of Les Misérables performed bits of "Suddenly," "I Dreamed a Dream" and "One Day More."
The music of James Bond also took center stage marking the film franchise's 50th anniversary, with performances from Shirley Bassey and Adele, who won Best Original Song for "Skyfall" (a first for any James Bond film.)
Other performers included Barbra Streisand ("The Way We Were"), Norah Jones ("Everybody Needs a Best Friend"), Jennifer Hudson ("And I Am Telling You"), Catherine Zeta-Jones ("All That Jazz") and a closing duet from MacFarlane and Kristen Chenoweth singing their condolences to the losers.
Big winners from last night's ceremony include "Life of Pi" and "Lincoln," with Best Picture awarded to "Argo," Best Actress in a Leading Role to Jennifer Lawrence (Silver Linings Playbook) and Best Actor in a Leading Role to Daniel Day-Lewis for his portrayal of Abraham Lincoln.
Did you miss the Oscars? For the first time in Oscar history, you can view the entire ceremony here.