Recent Posts From
Sports
Four weeks are in the books and the rankings are still unstable. It's almost like it's impossible to a judge a team off of such a small sample size. But we tried it anyway so take a look.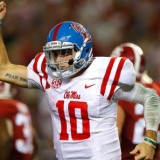 Week four is almost upon us but not before our latest version of the top 25 teams in the country. Is that a new number one team?
Ohio State and Alabama still sit at the top after week two but the others aren't too far behind.
Album Reviews
Movie Reviews
Music Releases
TV Reviews