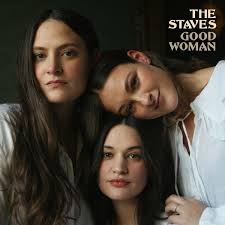 Released on February 5, Good Woman is the third studio album from folk sister trio The Staves. Disregarding their collaboration with Music in 2017, it is their first studio album released in six years since If I Was in 2015. Drawing inspiration from their own lives, including the death of their mother and birth of the eldest sister Emily's first child, Good Woman lays bare their emotions in enrapturing three-part harmonies often backed by acoustic guitar as the sisters attempt to interpret what it means to be a "good woman." 
Three songs in particular seem to stick out from the crowd. The first is the title track and opening number on the album, "Good Woman," that ponders the question what does it mean to be a good woman? An interesting addition to this song is the incorporation of voice recordings from other women in their lives in the background that is meant to represent the "inner chatter in your mind […] all the worries that go around in your head." 
A slow build that lays bare the burden of dealing with emotions when faced with a closed off partner, "Paralysed" shows itself to be a stand out track on the album that has more '80s influence than their previous albums. During the second verse of the song, the sisters sing, "Don't snuff me out / I used to be magic, I used to bе rage." The former emotion felt by the sisters has now been lost and they feel "paralysed" in multiple ways. The subject feels emotionally paralysed or numb, unable to get the emotions back that they once felt; the "magic" they had inside once is now gone. It also speaks to feeling stuck in a relationship, unable to leave your partner despite knowing that it would be the best thing to do. 
The last track on the album, "Waiting On Me To Change," is another slow song, largely consisting of three-part harmonies backed by piano, but it has a poignant message. The sisters were cited saying it was about "embracing imperfections that you have and acknowledging them and saying, 'I'm not going to change for anyone else other than myself.'" This element is certainly seen when the sisters sing, "Said you're waiting on me to change / What you doing that for?" and then go on to declare "I'll change, I'll change, I'll change when I want to." It is more of a simmer rather than a rolling boil to end the album, but it spreads a message of self-acceptance that holds importance regardless of gender. 
Overall, the album marks a divergence from the sisters' typical folk sound from their previous albums. However, the journey the album takes is well worth it if the listener is willing.
 Picture Credit: https://www.thestaves.com/