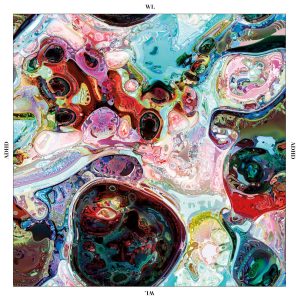 Portland band WL (pronounced "well") has been making catchy dream pop for almost a decade now, but a brief scan of past albums reveals their tendency to get a little experimental on the deep cuts (e.g. the discordant, jazz-infused "Mercury" off 2016's "Light Years"). With their most recent record "ADHD" WL again branches out sonically, fully diving into and exploring the hypnotic pop sound they've been leaning toward over their past two albums.
Over the eight tracks and 34 minutes, WL carries the listener through song after song of meditative synths and echoey percussion. Each track bears whispered lyrics by Misty Mary, whose ethereal vocals complement the music perfectly. These vocals often blend and mix with the instrumentation, making them nearly indistinguishable. Even when you can discern the words, they rarely have any straightforward meaning, or—like on "Water's On My Side"—simply consist of the same stanza repeated four times. However, this does little to ruin the listening experience, instead contributing to the spacious, poetic nature of each track.
Despite the focus on slower, calmer songs, one can still hear remnants of the band's indie rock roots, particularly on the track "Ganzfield Light." Time will tell whether this foray into airy, breathy pop is only a brief detour or a new direction for the band. I find myself favoring their previous work, but they do both well.
As it is, "ADHD" provides the listener with a calming, cathartic half hour, culminating with the ten-and-a-half minute long, double track "ADHD/Voices." Fans who wish to enhance the audio experience can view the music video for this piece on YouTube. The video, which draws the viewer through the vibrant, abstract artwork featured on the album cover, perfectly captures the essence of the record. "ADHD" isn't likely to make you get up and dance, but it will be there with you as walk through the autumn-tinged countryside or lie on your bed at night staring up at the ceiling. It's a nice little sleeping pill, and that could be just what we need right now.
"ADHD" can be found on Spotify, Apple Music, and other major streaming platforms. To hear their former albums, check WL's artist page on Bandcamp.
Noah Haynes