By: Grant White
Weezer fans, myself included, were no doubt anticipating the band's newest album, Pacific Daydream, which released on October 27 this year. Weezer's previous two albums, Everything Will Be Alright In The End (EWBAITE) and the fan-dubbed White Album, were met with incredible success and positivity among fans, even being compared to the beloved Blue Album that launched Weezer's career.
With Pacific Daydream, Weezer moves to a more relaxing vibe than that of its last two albums, diverging once again from the alt rock roots established in the band's first album. Being directly influenced by the Beach Boys (which is even the name of the second track), Pacific Daydream isn't like any other album Weezer has done, which isn't necessarily a bad thing given their shaky discography. Each song is more pop-based, but they're still fun and creative. I personally prefer the direction Weezer was going with the White Album and EWBAITE, but I like that front man Rivers Cuomo is still willing to try something new despite all the negative feedback he's received over the band's years.
Despite a fall release, the album has a very summer-like quality, making it perfect to listen to at the beach or on a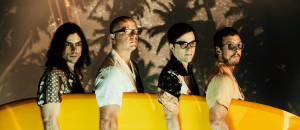 particularly sunny day. With an amazingly cool album cover that's quite literally out-of-this world, as well as a catchy first single with "Feels Like Summer," Pacific Daydream boasts, at the very least, an interesting album.
My biggest complaint with the album is that it feels much too short, reaching only 34 minutes after all ten tracks have played. The closing song, "Any Friend of Diane's," doesn't really feel like an album closer, which left me feeling surprised and a little unsatisfied when the music stopped playing. I would've liked to see the inclusion of at least one more last song that could give some sort of finality or closure to the album so it would actually feel like the end and feel right, which Weezer typically does perfectly, but not so here. Another complaint is that some songs in the album just aren't as strong as others, and for only ten tracks there's only so much room for error. For me, tunes like "Feels Like Summer" and "QB Blitz" resonate in my head long after I've finished listening, while others such as "Happy Hour" and "Get Right" fall flat and unnoticed. I do like, however, how consistent in tone the album is, and while I do not think every song here is a stand-out, I do feel as though they work together well and aren't out of place.
Overall, I understand where Rivers wanted to go with this album and sincerely enjoy most of what it tries to do, but because it sounds so different from the band's rock sound regained in its most recent albums, Pacific Daydream is not nearly my favorite album of Weezer's and I am sure many long-time fans will agree. The album is, however, a breath of fresh air and unique in its own right; the more pop-based vibe is likely an attempt to attract fans of a more relaxed genre of music, leaving us hard rockers behind for the time being. Weezer has produced a few disastrous albums in its career, but I'm confident to say that this is not one of them.
So if you're new to Weezer and enjoy music that's more on the chill side, definitely give the album a listen! If you're an old fan and have anxiously been putting off listening to it, bite the bullet and listen; you might be disappointed, but still give it a try.
You can find the album just about anywhere, including Spotify, Apple Music, iTunes, and YouTube.