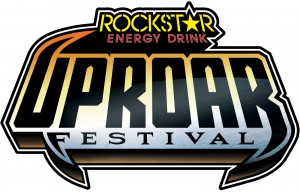 Beach concerts can either be really miserable or rather enjoyable experiences.
Luckily, the Uproar Music Festival tour on the coast of Mississippi in Gulfport was the latter.
The travelling tour featured eight nationally known acts and dozens of sponsors and non-profits.
The first band I saw was Within Reason from Birmingham, AL. I had previously interviewed them in Jacksonville, FL when they found out they were going on the tour. They are a great addition to this tour and they brought a feel of the Alabama Rock scene to the tour.
Next up was Escape The Fate from Las Vegas, NV. I have seen them several times over the last year and they keep getting better. Craig Mabbit's energy mixed with TJ Bell's back up vocals and guitar are what make this band the heavy hitting rock stars that they are. They played:
You're Insane
Issues
Gorgeous Nightmare
Fire It Up
Ungrateful
One for the Money
This War is Ours (The Guillotine II)
The last band on the smallest stage was Buckcherry. Josh Todd has an extremely unique rasp to his voice that is a force to be reckoned with. He even has the tambourine skills to match. They do not care what others think and they always bring their energy. They played:
Lit Up
Broken Glass
All Night Long
Somebody Fucked With Me
Everything
Sorry
Dead
Say F*** It (Icona Pop Cover)
Big Balls (AC/DC Cover)
Gluttony
I Don't Give A F***
Crazy Bitch
The first band to kick off the main stage was Skillet. Although they are classified as a Christian Rock band, that should not limit your opinion on them. They rock harder than some Metal bands I have heard and they go on more "secular" tours than not. They played:
Whispers In The Dark (Violin intro)
Sick Of It
Hero
Not Gonna Die
Awake & Alive
Comatose
Monster
Rebirthing
Seether is one of those bands that I have seen more than enough times, but each time is slightly less memorable than the last. This was not their best performance I have seen. While the crowd was on point, the band seemed to be lacking their normal energy and It was extremely disheartening. Their new album also did not live up to my expectations. They did cater to the crowd, though, and brought out all of their hits. They played:
Gasoline
Rise Above This
Words As Weapons
Fine Again
Broken
Tonight
Country Song
Fake It
Remedy
Godsmack's performance was also slightly disappointing. It was more of the band trying to blend nostalgia with their new material, but the crowd only came for the old stuff (personally, Godsmack has not had a good album since IV in 2006 but I digress.) They really tried to cater to their crowd a little too late. They kept talking about how "Godsmack is back with 1000HP and we aren't going anywhere." according to singer, Sully Erna. They played:
Generation Day
Cryin' Like A Bitch
What's Next
Locked and Loaded
Keep Away
The Enemy
Something Different
Straight Out Of Line
Awake
Speak
Voodoo
Batalla de los Tambores
Whatever
1000hp
I Stand Alone
As I said earlier, beach concerts can either be really miserable or rather enjoyable experiences and this one was surprisingly pleasant.