After the 2013 season, 7 coaches were relieved of their duties and GM began to work furiously to pick their new guy to run the reigns for the 2014 season. Well, after it's all and done, 7 new coaches will be back to work on making their career a memorable experience for their organizations. But now that it's old news, was every hire a good hire? Sure, everyone may have their own opinion but after researching each coach's background and looking at the reaction from the fans, here are the final grades for each hire made in the offseason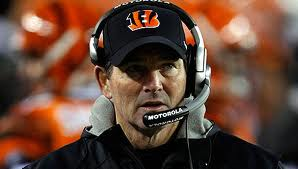 (Zimmer in 2013 as the Bengals Defensive Coordinator)
 MIKE ZIMMER, MINNESOTA VIKINGS
This hire was needed to made by any team in the NFL. Zimmer has been one of the most elite Defensive Coordinators in the league since he began working for Dallas back in 2000. Not only has he transformed the Cincinnati defense into one of the top ranked defense for 3 years now, he has also taken "projects" like Defensive Tackle Geno Atkins and Linebacker Vontaze Burflict and turned them into top tacklers and leader on defense. The Minnesota defensive front seven has already had many tools with Linebacker Chad Greenway and Defensive End Jared Allen leading the pack, but also Rookie Sharif Floyd shows much potential with a feel of Atkins himself.  Zimmer has some fineness to train young players and making them stars, which he has done in the past and could fix the issue with safety Harrison Smith and Cornerback Xavier Rhodes and build around them on the defensive side of the ball. Although he needs to find a franchise Quarterback, whether in the Draft or Free Agency, Zimmer has a very talented offense and stellar defense that's just missing a few keys to get back into the playoffs.
Grade: A-
Prediction for 2014: 7-9 (3rd in NFC North)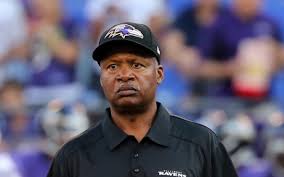 (Caldwell in 2012 as the Ravens Offensive Coordinator)
JIM CALDWELL, DETRIOT LIONS
It's not that this really wasn't a bad hire, but it was more so a settling hire. Caldwell does have head coaching experience with the Indianapolis Colts, where he led them to a Super bowl in 2009, however after a 2-14 season in 2011, Caldwell received the boot. He has truly excelled as an offensive coordinator in Baltimore, especially after leading that offense to the 2013 Super bowl victory. However, this season the Raven offense took a major step back due to injuries and losing key players to free agency. With that being said, this hire is a decent hire due to who Caldwell has to work with. Matthew Stafford has shown potential to be an elite Quarterback in past years and with Caldwell's offense, it seems like he can excel and become a better passer because of it. Not to mention he has the number one receiver in Calvin Johnson to work with. If they can draft to fix the line and defensive side of the ball, the Lions could have hired anybody for this job and they would succeed.
 Grade: C
Prediction: 9-7 (2nd in NFC north)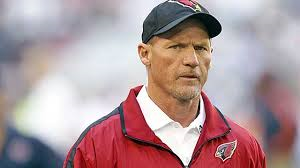 (Whiesnhunt in 2012 as the Cardinals Head Coach)
 KEN WHIESNHUNT, TENNESEE TITANS
Now, this might be a little more biased then the other hires just because I've always been a huge Whiesnhunt fan. He has proven now twice that he can lead an offense deep into a playoff run including Pittsburgh back in 2006 and San Diego this past football season. However, Whiesnhunt has been criticized to not be a strong head coach after finishing 18-30 in Arizona over his 5 year stint. Also, all three times he's been to playoff, he's had strong quarterbacks at the realm including Ben Roethlisberger, Kurt Warner and Phillip Rivers. Minus out the Kevin Kolb/Derek Anderson era and Whiesnhunt really didn't do that bad of a job in Arizona. This really is a good hire done by the organization, however it just doesn't seem like a good fit for Whiesnhunt. After being the leading candidate for the Detroit Lions job, he instead opted out to head to Tennessee. But really, what's there to look for in Tennessee? Whiesnhunt and the organization will be making very critical decisions this offseason including what to do with Jake Locker and Chris Johnson. If Whiesnhunt can make either right choices for the offensive side of the ball and maybe add a new defensive face, he could really turn this team around within the years to come. However, it will be a long road to recover without a true Quarterback and a big name player. In my opinion, Whiesnhunt should have gone to Detroit where he would have taken that team from zero to something phenomenal, however this is about the Organization and not a single person, so I must grade by the organization call
Grade: B
Prediction: 5-11 (4th in AFC South)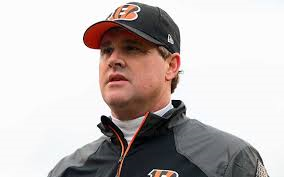 (Gruden in 2013 as the Bengals Offensive Coordinator)
JAY GRUDEN, WASHINGTON REDSKINS
Now this hire really could go either way, not because of his coaching skill but because of owner Dan Snyder's history with Coaches. However, Gruden has worked with hard owners especially like Mike Brown in Cincinnati. Now with that being said, Gruden has become one of the high name hires for NFL over the past two years.  His offensive skills have brought the Bengals to back to back playoff appearances in his three stint.  But with every positive comes a negative, and for the Bengals, winning and playoff game has been their negative. This is now the moment to see if it's more so Jay Gruden's play calling issues in big games or lack of talent on the field that will be the Bengals downfall. Now that Jay has a decent team at his hands, he will face big issues in drafting and free agency to try and help Robert Griffin III back to the playoffs. Can it be done under Gruden's hands? Yes. Will he be back in the playoffs next year? Probably not, and with that out of the bag, his grade drops just a tad.
 Grade: C+
Prediction: 6-10 (3rd in NFC East)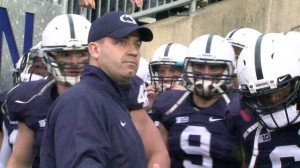 (O'Brian in 2012 as the Penn State Head Coach)
 BILL O'BRIAN, HOUSTON TEXANS
The fact of what Bill O Brian did in Penn State over the past two years definitely played a huge part in this hire. After overcoming the odds and bringing the Nittany Lions back to some glory, O'Brian has become the hottest hire in football. Since the Texans fired former coach Gary Kubiak mid-season, they were able to jump the bullet a little early and snag him before another team could. Unfortunately, there is a track record of failure head coaches who served under Bill Belichick and only one can wonder if O'Brian will be following that path. Now, guys like Eric Mangini and Josh McDaniels really had nothing to work with when they got their head coaching gigs, O'Brian is really walking into a gold mine of players such as Andre Johnson and DeAndre Hopkins. The Texans were boggled by injuries to key players all year and possibly would have been a better team if not for the losses of Arian Foster, Brian Cushing and Jonathan Joseph. Not to mention O'Brian was also in New England during most of their Super bowl appearances and helped Tom Brady at the quarterback position for 5 years. If he can find the right guy to play quarterback for this franchise over the next several years, except great things from this time starting next season. If not, well…the curse of working under Belichick continues.
 Grade: B+
Prediction: 10-6 (2nd in AFC south, #5 seed in 2015 playoffs)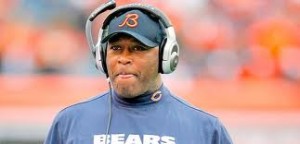 (Smith in 2012 as the Bears head coach)
LOVIE SMITH, TAMPA BAY BUCCANEERS
WELCOME HOME LOVIE! Without a doubt a great hire by this team to bring back their former Defensive Coordinator as their head coach. After finishing 10-6 and only winning two games in the final 8 games, Chicago showed Smith the door in 2012. What people seem to forget is this is the exact story that Lovie was placed with in Chicago almost 10 years ago: issues on offense, but key players on defense. The fact that he wasn't hired by a team in 2013 is still a mystery to some folks just due to finishing 84-63 in his 9 year career with one super bowl appearance.  Smith will have a healthy Doug Martin next year and will hopefully be able to either turn Mike Glennon around or find the Bucs' future superstar in this year's draft. But honestly, look at who he has to work with on that defense; Darelle Revis, LaVonte David, Vashon Goldshon, Mark Barron and the list goes on. If they could possibly pick up a guy like Jadevon Clowney or Anthony Barr to help with pass rush, The Bucs defense will be as fierce as they were back in 2003 when Smith's D destroyed teams on their way to the Super bowl. It will be a year before they are true contenders but they have a great coach to take them back to NFC south glory.
 Grade: A+
Prediction: 7-9 (3rd in NFC south)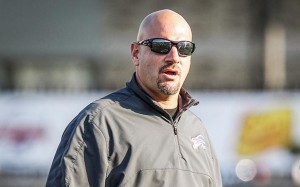 (Pettine in 2013 as the Bills Defensive Coordinator)
MIKE PETTINE, CLEVELAND BROWNS
Although this hire was the most recent and the final hire this NFL season, this still is the strangest hire made this season. Not only was this hire not excepted by any, but also Pettine wasn't really even on the Browns radar for a while. Even though Pettine has transformed defenses around (such as 2010 New York Jets), he really wasn't the main guy for this particular job. In fact, he was one of the few guys left on the Browns coaching radar after losing many coaches to other teams or rejecting the offer. On the upside, Pettine has been able to take mediocre defenses and change them to top 10 defenses. Not only that, but he has also taken young players and turned them into great leaders such as Kiko Alonso. This hire just doesn't feel right only because the Browns really seemed to settle with Pettine rather then really chase after him.  If Pettine can work side by side with a newly hired Defensive Coordinator and a new Offensive Coordinator, he might be able to bring this team to somewhat glory. However, it will still take a few years before he is truly able to transform this team around…that is, if he even is still the head coach.
Grade: D
Prediction: 4-12 (4th in NFC North)