TUSCALOOSA, Ala. – The Alabama softball team will open its 2012 schedule by traveling to Mobile, Ala., this weekend to take part in the Mardi Gras Invitational at Jaguar Field, hosted by South Alabama. Alabama will face off against Memphis and Jacksonville State – both 2011 NCAA tournament participants, Lipscomb – a 2010 NCAA tournament participant and tourney host, South Alabama. Alabama opens tournament play against Memphis at 3 p.m., on Friday, February 10. All games this weekend will be broadcast live on 90.7 and online at wvuafm.ua.edu.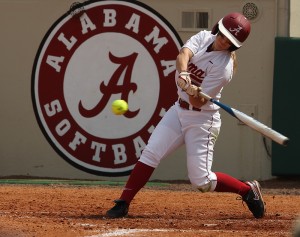 Alabama returns two All-Americans in Kayla Braud and Jackie Traina. Braud earned All-American honors for the second straight season as she once again paced the Tide in numerous offensive categories. The fleet-footed outfielder led the nation with 58 stolen bases and ranked 15th in the country with a .436 batting average. Traina, despite being just a freshman, proved to be one of the top two-way players in the country. She batted .351, slugged 13 home runs while posting 19 wins and a 1.70 ERA in the circle.
Alabama enters the season 10-5 in opening day games and has won six of its last seven season openers. Over that span the Tide has outscored its opponents, 59-5, posting five run-rule wins. Last season the Crimson Tide blitzed Samford, 8-0, in five innings. Jackie Traina struck out five and hit a two-run homer in her collegiate debut. The Tide smacked an opening day school record four home runs in the win as Jennifer Fenton batted 3-for-3 with a home run and three RBI. The last opening day loss for Alabama came in 2010 when it fell to No. 9 Missouri, 2-1, in a tight pitching duel between Kelsi Dunne and Chelsea Thomas.
Alabama will be tested all season long as it enters the 2012 season with a schedule that features nine teams that are ranked in the preseason polls and 19 teams that made the postseason in 2011, including three whom made trips to the Women's College World Series. Alabama will need to start fast as its first 11 opponents all won more than 30 games a year ago.
Alabama will continue tournament play on the road as it will face a tough test at the SEC/ACC Big XII Challenge in Auburn, Ala. UA will face Women's College World Series participants Oklahoma and Oklahoma State while also playing NCAA powers Georgia Tech and Virginia Tech. The Tide will open play on the Plains on Friday, Feb. 17, at 5:30 p.m., against No. 23 Georgia Tech.