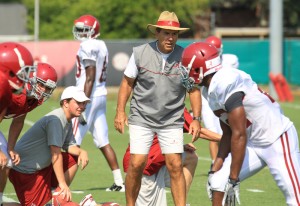 TUSCALOOSA, Ala. – The Alabama football team returned to practice Tuesday afternoon at the Thomas-Drew Practice Facility for a two-hour session in which the Crimson Tide strapped on full pads for the first time in fall camp.
"The incremental improvements on a daily basis this time of year is really significant, and I think it has been in each one of our practices," Alabama head coach Nick Saban said following Tuesday's workout. "I think yesterday's practice was better than the day before.
"Today's practice, the first one in pads, was probably one of the better ones we have had. The intensity was better. The effort was better. The toughness was better. There are still a lot of areas that we need to improve on in terms of execution, but that is why we need 25 more practices to get ready for that first game."
Saban has been pleased with the veteran leadership from his team as they have provided a good example to Alabama's newcomers who are working to earn a role for the 2011 Crimson Tide.
"A lot of the older players are doing a very nice job of providing a good example for the young guys," Saban said. "We do have some young guys who may be able to make some type of contribution, but that will be based largely on their maturity, ability to learn, execute and play winning football at their position."
It marks the fifth practice of fall camp as the Tide continues to work towards their season opener on Sept. 3 at Bryant-Denny Stadium against Kent State.
The intensity of fall camp will increase tomorrow with the Tide's first two-a-day practice session beginning at 9:30 a.m. Alabama will then hit the field again at 7:30 p.m. for the day's final workout.
UA will hold a single practice on Thursday before conducting the week's final two-a-day practice on Friday. Alabama will then hold the fall's first scrimmage on Saturday. All practices are closed to the public.
(Release and Photo Courtesy UA Athletics – RollTide.com)