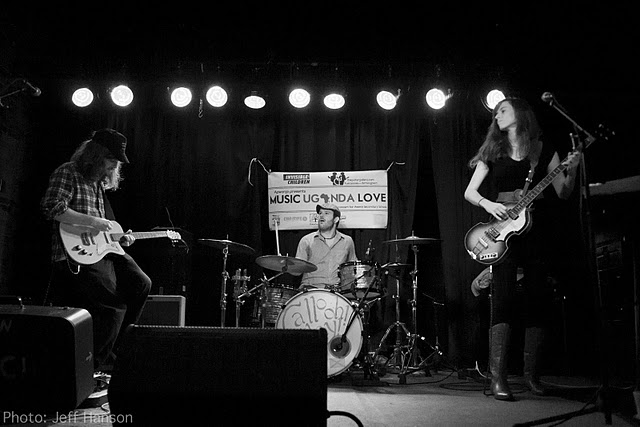 This week's "In the Spotlight" artist is a group of musicians and vocalist who are no stranger to 90.7 The Capstone. Callooh! Callay! is a local Tuscaloosa band that consist of band members Adam Morrow as vocalist and guitarist, bassist, pianist, vocalist Natalie Jensen, and Bowen Robertson on the drums.
The trio together have created a beautiful indie and rock sound that is unlike other artist of their genre. The first album "Sassprilluh Champagne" was completed in April of 2010 with the help of Hackberry Records, independent label located in Tuscaloosa, Alabama that started in 2006.  "Sassprilluh Champagne" features the tracks "Sycamore Tree", "Benjy", and "Noskeemos".
When asked about what their favorite places to play at are, Marrow responded, "…playing in the Delta is incredible because of the history of the place–any musician that doesn't feel absolutely privileged to play a few minutes down the road from Dockery Plantation or a block from Highway 61 ought to just hang it up–but its also fantastic for the same reason that we love playing in Auburn (of all places); the folks have done incredible things…" Marrow also said that there is plans for a concert this spring semester, but a date is yet to be announced. To keep up with Callooh! Callay! visit there Facebook page.
The Capstone would like to thank bands like Callooh! Callay! who have participated in our benefit concerts. Just recently, Callooh! Callay! helped with the benefit at the Dixie that was a huge success!
90.7 The Capstone is proud to support Callooh! Callay! and any other local artist of the Tuscaloosa area. For more on our "In the Spotlight" artists, click the "In the Spotlight" tab on home page of www.thecapstone.ua.edu. If you would like to recommend at "In the Spotlight" artist please email WVUA-FM New Media Director Jordan Hendricks at newmedia.wvua@gmail.com.