"In the Spotlight" is a feature article of thecapstone.com that will highlight a local bands or artists each week. After bands for each are selected WVUA-FM directors will vote on who they feel is the Band of the Month. This weeks "In the Spotlight" artist is The Letter3.
The Letter3 is a funk/rock group located in Tuscaloosa, AL. Members of Letter3 include Josh Mickler as lead vocalist, Jordan Abbett on bass, Ryan Mayfield as the drummer, David Moore on lead/rhythm guitar, as well as Jonathan Milling on lead/rhythm guitar. According to their website, Letter3 began its musical journey when Milling and Abbett collaborated music ideas in 2008. Mayfield, Mickler, and Moore joined later and started forming original songs in 2009. "They were determined to write and record music that was not the status quo of the local area."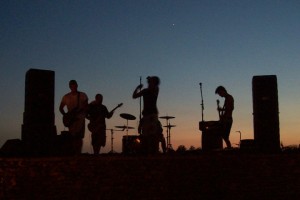 In October of 2009, Letter3 had their first show and have continued to do venues on a regular basis. In March, the group recorded a demo containing nine original songs with the help of Alan Blazick. Some of these originals include "Blue Lights", "Our Days", and "One More Time".
Letter3 has announced that their next performance will be on Sunday, February 20, 2011 at the Gorilla Productions Battle of the Band's finals located at Zydeco in Birmingham. "We are the only Tuscaloosa-based band to be playing in the event," says Mayfield. The band is looking for the Tuscaloosa area to support them as they compete for the national level. "If you've never heard of us then check us out at either: reverbnation.com/theletter3, where you can hear our disc and check out our live video recordings, or our facebook page under the letter 3."
90.7 The Capstone is proud to support Letter3 and any other local artist of the Tuscaloosa area. For more on our "In the Spotlight" artists, click the "In the Spotlight" tab on home page of www.thecapstone.ua.edu. If you would like to recommend at "In the Spotlight" artist please email WVUA-FM New Media Director Jordan Hendricks at newmedia.wvua@gmail.com.