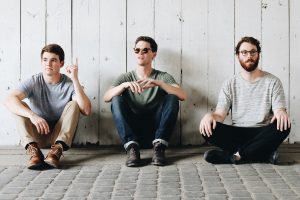 By: Seth Stevens
What do Sundays sound like, anyway? Those clean, bright Sundays with a tinge of gold in them. The ones filled with late breakfasts and church bells in the distance (if you're into that sort of thing). The Brook & the Bluff's debut record distills this sound and puts it in a mason jar.
Bass lines saunter through the mix like I might roll around in bed. Horns peek in and out of songs like sun rays through the blinds. Guitars shimmer all over this thing. This album encourages you to take your time and smell the coffee. However, as soon as you take a sip, the black coffee bitterness shows itself.
Lying under the splashes of pretty music is the all-too-familiar pain that comes along with being a young man or woman in today's world. "Back Through the Lens" features lyrics that pry into a past relationship, looking for answers even though we know they aren't there. They navigate the identity shifts that occur in any serious relationship: tweaking yourself in order to align with another person. But when it's all said and done, "I don't know anymore which is the real one."
Another peril of youth is exposure. In "Straws", the lead vocals tell the listener that "I couldn't take another straw, oh my back is breaking / from everything I've seen and all I've heard." Growing up is really a process of growing outward, absorbing pieces of the world that you haven't before, traversing new territory. It's exhilarating and bright and colorful, but it comes at a cost.
The Brook & Bluff have traversed all of this territory with confidence. But for now, it is Sunday, and on their first record we will put off the pain for a moment. We will praise our changing selves and the moments that caused them to change. We will taste the coffee with a smile on our faces.