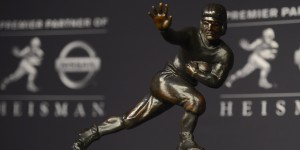 New York City – The three finalists made their way to the stage for the press conference prior to the announcement of the winner. Henry, McCaffrey and Watson were all very well spoken, and showed lots of admiration for their fellow competitors. The three agreed across the board that if they had a vote in the process that those would be cast towards their two other peers. God was thanked by all, as well as family for their success. All very grateful to be attending the event. There seemed to be tension in the room, as all three seemed to be nervous for what was to come.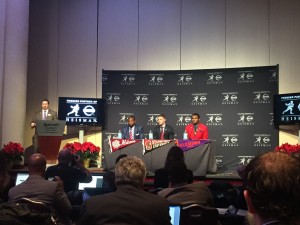 When asked about how they were able to manage class and football Derrick Henry said "We have a great staff at the University of Alabama to help us with 0ur classes. Your time management is on you and you need to get your work done."
McCaffrey had a similar answer "Practice and class interfere a lot, so you can't have a huge workload during the season. But when winter and spring roll around it's a grind."
I had a quick opportunity to ask Derrick Henry which place in Tuscaloosa was his favorite to grab barbecue. "Archibald's" he laughed "it's not even close."
Henry is currently the favorite to win the award, but the voting could be a lot closer than people think. The award ceremony begins at about 8p.m. EST and will last about 90 minutes. Whoever is able to grab the award will be very deserving, all three have put in quite a lot of work this season.