SEC Media Days continues on Tuesday in Hoover with four teams that have a lot of questions to be answered before the 2015 season. Steve Spurrier faces questions about retirement with South Carolina needing to improve after a disappointing 2014 campaign. Texas A&M thinks they have found the answer on defense with John Chavis. Mississippi State returns Heisman finalist Dak Prescott but not much anywhere else on Dan Mullen's team. Tennessee has gained a lot of preseason darkhorse hype but Butch Jones and the Volunteers still face a lot of questions with roster depth and injuries. Needless to say, Tuesday will be an eventful one at the Wynfrey Hotel.
9:25 – Skai Moore, South Carolina linebacker
"It's very important. Just to build off our confidence and to show that we do have the ability to be a top defense in the country. That's all going to start at Carolina." – When asked about the poor 2014 start against Texas A&M
"With John Hoke's scheme, we have the base 4-3 scheme. I'll have two great linebackers on the field with me. Being able to run an anchor in the middle of the field is going to help me a lot as well."
"Experience is a good thing. From experience comes confidence and confidence can go a long way. I know that confidence can make me play a lot better."
9:35 – Elliot Fry, South Carolina kicker
"For kickers, it's a lot different in games for most other positions. The quarterback can have a 60% passing percentage, which is good for a quarterback but that's horrible for a kicker." – On his tattoo that says "One Shot"
"It's exciting to be here. I love being a kicker."
"This year I'm going in with a good attitude and as a kicker, you try to make everything and you go into it with the attitude that you're going to make everything. I think if I really focus I can be one of the top kickers in the country."
9:45 – Steve Spurrier, South Carolina head coach
"We had a disappointing midseason. But I'm really proud of how our team finished, winning three of the last four games. Our guys won the bowl game in Shreveport. We were a happy bunch of Gamecocks to go 7-6 last year. It could've been a lot worse."
"When I ask the guys how he throws they tell me 'Coach, he's fast. He can run.' He's a fast athlete but he can throw the ball. He's got a good arm." – On freshman quarterback Lorenzo Nunez
"We've got a lot of preseason work to do to establish or quarterback."
"The Eastern division was 5-0 in bowl games. That Western division had Arkansas and Texas A&M win so the East kind of held up the SEC in the bowls."
9:55 – Mike Matthews, Texas A&M center
"Coach Christensen has done a lot of great things for us this offseason, especially for the running back. He has put in a new scheme, has gotten us all to buy into the system and I think that will do big things for us in the future."
"It's awesome. But at the same time, you don't get any weeks off. Every time, you're preparing for a really good opponent. For us, we have to be at our best every single week. It's definitely a grind every single week." – On playing in the SEC West
"Kyle (Allen) has made a lot of strides for us. He's the leader on this team and we all look to him. We know he's going to put us on the right path."
10:15 – Germain Ifedi, Texas A&M offensive tackle
"We definitely have a lot of new run techniques. We improved our hands, our feet, better spacing and things like that. We still have that great tempo that our program is known for."
"(Kyle Allen) just continues to grow. He's a smart kid. He's the kind of guy you want to be quarterback on the team. He continues to make great strides, he's impressed me. He's going to be great for years to come."
10:25 – Julien Obioha, Texas A&M defensive lineman
"Whenever I get to play in Louisiana or play against the purple and gold, I'm excited." – Obioha is a New Orleans native.
"I think we have so much talent back there. We have a lot of pieces. We switched some guys from the offensive backfield. They're so competitive that I don't think they're going to be beat by anybody." – On the Aggies' secondary and linebackers
"Yes sir, of course. Are y'all still mad about that?" – When asked if the Aggies recovered the fumble against Auburn
11:15 – Kevin Sumlin, Texas A&M head coach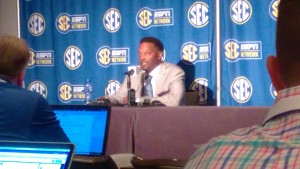 "We've been able to translate the success of our offense tackles, and O-Line in general, to their own personal success and wealth."
"It's kind of like pitching a no hitter, you aren't supposed to say anything like that… Our evaluation has changed in the recruiting process. Our education process has changed… We teach what leadership is on and off the field." – On the lockdown of off-field issues for the Aggies
11:25 – Pharoh Cooper, South Carolina wide receiver
"Yeah, I have the best Twitter handle in the SEC." – @KingTutt_chdown
"Teams are keying on me more. I'm going to have to get the ball in my hands more in the Wildcat. I'll probably be in the backfield a lot more this year."
"They're competing every day. Both of them throw the ball pretty well. Both of them can hand the ball off." – On the quarterback battle
11:45 – Steve Shaw, SEC Coordinator of Officials

"We have to get better — I mean, the teams get bigger, faster, stronger. The game gets quicker and tougher to officiate.  So we have got to get better every year just to keep pace."
"In 1986, the SEC went from six officials to seven. So I ask you this, has the game changed any since 1986? We had teams running the wish bone, the veer. The game has dramatically changed and the eighth official is an innovation that will really help us officiate."
1:20 – Dak Prescott, Mississippi State quarterback
"Dropping three of our last four games leaves a bad taste in the mouth. Leaving after the way we ended, I think I'm better than that and I think we can be better than that." – On returning for his senior season
"Football is everything in the South. It's life. And it's no different in Mississippi. I think it's great for the state. Being a top team in the nation, we did it for the state and for the people."
"It's a chance for me to take over the state again. Playing LSU, Northwestern State and Louisiana Tech, especially if we can win all of them on the road. It'd just be great."
1:30 – Taveze Calhoun, Mississippi State defensive back
"We don't like to get into a competition within the team. They may talk more about the offense and Dak Prescott. But Dak Prescott is a Mississippi State Bulldog and we are Mississippi State Bulldogs."
"We want to have a complete defense. We try to stay out of the media with things people say. We just try to take care of ourselves, our defense as a whole, and make sure everyone is working toward the common goal of being the best defense in the nation."
1:40 – Dan Mullen, Mississippi State head coach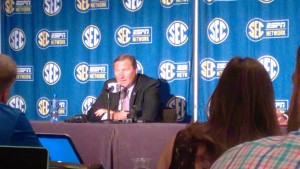 "As a program, we had a historic season last year but we want to build on that and have an even better season this year. Having a guy like Dak at quarterback certainly helps that."
"You have to play them at some point. If you win them early, it'll give you a big early boost. Last season we played three ranked teams and it helped us get to number one so I think that helped. I don't know if it matters one way or the other." – On playing Auburn and LSU in September
1:50 – Curt Maggitt, Tennessee linebacker
"Dobbs did a great job off and on the field. He has matured a lot, being a lot more vocal. I told him I got his back, no matter what's going on, I got his back."
2:10 – Joshua Dobbs, Tennessee quarterback
"Whenever you're able to get more reps, and see various looks, it definitely helps. It's been different this offseason being seen as the starting quarterback."
"For me, and as a team, you're going to see a team that is motivated to win. We've done a lot to get ready for this year in the offseason and I'm excited to see what we can do."
"It's been a great offseason for development for everyone. I feel like we have a great sense of accountability, we have guys that want to be pushed hard."
2:20 – Cameron Sutton, Tennessee defensive back
"We're a brotherhood. We're a bond. We're always around each other. We'll do anything for each other. We have each other's back. Attack mentality, we're always ready to get after it."
"We're excited for this upcoming season. We're happy to be here. We're the men of Tennessee. This is what we come to Tennessee for, to play football."
3:10 – Butch Jones, Tennessee head coach
"We're very excited, obviously, about this season. The expectations are a little different from those in the past but that's what you want." – On high expectations from most of the media
"The one thing that separates Derek Barnett is he is a workman. You ask him to do something and he gets it done."
3:20 – Ryan Brown, Mississippi State defensive end
"Our mentality is that we did finish strong, not like we wanted to, but to focus on those losses because we are nowhere near perfect and we are trying to focus on finishing strong in every drill and every practice."
"Definitely. We believe that the best offense is a good defense. If Dak and his cast score a touchdown but there's no defense, what's the point of playing defense?"