SEC Media Days continued on Tuesday at the Wynfrey Hotel in Hoover. The busy day got started early with SEC Coordinator of Officials Steve Shaw announcing new rules and explaining how they will be implemented for the 2015 season.
""We have to get better," Shaw said of the SEC officiating. "I mean, the teams get bigger, faster, stronger. The game gets quicker and tougher to officiate.  So we have got to get better every year just to keep pace."
One of the major changes that Shaw and the SEC will be making is adding an 8th official to the field. This will be the first on-field referee added since 1986 and Shaw believes it is past due. Other rule changes include when the 40-second and 25-second play clocks will be used along with new penalties for onside kick blocking and pulling opponents off piles.
Four teams were in Hoover for day two, including Steve Spurrier's Gamecocks. Spurrier garnered a lot of attention with his opening statement about what he thought about South Carolina's 7-6 season in 2014.
"We were 7-6, same as Tennessee and the same as Arkansas," Spurrier said. "I think they're sort of celebrating big seasons so we were celebrating also. We were doing some cartwheels and high fiving after that Independence Bowl win because it was a year that could've gone real south but guys hung in there."
Spurrier faced many questions about his quarterback situation but gave no specific answer of whether Connor Mitch or Lorenzo Nunez will be named starter before the first game. The stars for South Carolina in Hoover were All-SEC wide receiver Pharoh Cooper and kicker Elliot Fry. Fry was the only specialist to represent his team at Media Days.
"It's exciting to be here. I love being a kicker," Fry said. "I try to make everything and you go into it with the attitude that you're going to make everything. I think if I really focus I can be one of the top kickers in the country."
Dan Mullen also made the headlines with what he called his "shoe swag game."
Got my Yeezy shoes just in time for #SECMD15 @kanyewest @adidas pic.twitter.com/hqfn7dHzQA

— Dan Mullen™ (@CoachDanMullen) July 14, 2015
Mullen brought Heisman hopeful Dak Prescott with him to Hoover. After finishing eighth last season in Heisman voting, Prescott shaded from most questions on the award while being vocal about his team playing for a national championship.
"We have to continue to do the things that got us to No. 1 last season," Prescott said. "Reaching No. 1 was fun but that was only for five weeks in the middle of the season. Everyone in our program wants to finish at No. 1."
Mullen and Prescott continued to push the idea that last year was just a building block to the success that the program can have. We will learn a lot about their team in the first month when the Bulldogs have to face both LSU and Auburn.
Texas A&M was also in Birmingham to speak to the media on Tuesday. Kevin Sumlin and the Aggies are known for their explosive offense but Sumlin wanted to talk what his defense is capable of doing in the fall.
"You look out there with the number of freshman that were playing," Sumlin said of his team last season, "two freshman safeties, all three linebackers, Myles Garrett, a true freshman. Winning some of those games gave those young guys confidence and a springboard going into the spring."
Sumlin's team will be led by sophomore Kyle Allen. Allen's leadership ability was the first thing that center Mike Matthews talked about on Tuesday.
"Kyle (Allen) has made a lot of strides for us," Matthews said of the young quarterback. "He's the leader on this team and we all look to him. We know he's going to put us on the right path."
Tennessee was the last team to make their way through the press rooms. Butch Jones realizes that his team is being looked at as one of the favorites in the East but he is quick to say that nothing is decided on paper.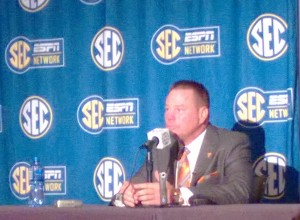 "The great thing and most challenging thing of the SEC is you never know what a long season is going to bring about," Jones said. "I always tell our football team this, the team that can manage the natural adversities that a long football season brings about will be the team that wins championships in December."
Joshua Dobbs is entering his third year in Knoxville and will be looked at as the captain for the offense. The junior quarterback has seen a lot of hype come his way after impressive play early in the 2014 season. Dobbs is joined by junior Cameron Sutton as the main leaders for the Volunteers.
"Embracing the leadership role," Sutton said on his offseason improvement. "Getting to the younger players, preaching to them expectations, what we expect from them."
SEC Media Days will continue on Wednesday and features Alabama in the morning. Kentucky, Missouri and Arkansas will join the Crimson Tide on day three in Hoover.