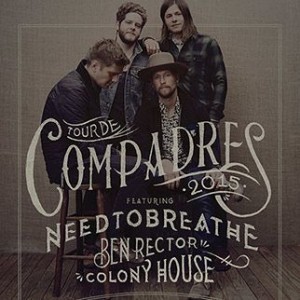 On Monday, I talked to Seth Bolt, bass player for NEEDTOBREATHE, about the upcoming tour.
They will be making a stop at the Tuscaloosa Amphitheatre on Thursday with Ben Rector, Drew Holcomb & The Neighbors, and Colony House.
How has the response to Rivers In The Wasteland been? How have fans and critics reacted to it? Especially since it has more of a religious undertone to it. We've been spinning Brother on-air.  
I'm probably the most nervous right before we release a record. There was a rawness, a vulnerability to it that we hadn't explored. At the same time, we had just gone through some pretty life changing stuff and our faith played a huge role in that. We were excited to put that on the page since it was real and inspired. We worried how people would react, but the people who bash music with any reference to God have respected the honesty of it. Bear said this one time: we were performing songs for radio programmers and he called them out in a way. Part of his beef with Christian music is you're making money off your faith. Faith is really important to us. But it's not something we would try to monetize. He referenced Bruce Springsteen. He will write a song about God or his faith and you know it is coming from a real place because it only happens every now and then. Listeners respect him because of that. We've been inspired by that. It is hard to follow that model.
I like that response. That caught me off guard. Switching gears, tour starts next week. Why tour with Ben Rector and Drew Holcomb again? What inspired the tour to be centered around bands you've toured with in the past?
One of the saddest things about when tours end, is when you tour with people like [Ben and Drew], you absolutely hit it off and you know it will be a relationship that lasts a long time. In most cases you don't ever get to tour with them again. We thought that was the case here because both bands are absolutely blowing up. They go and do their own thing. We had an idea. What if we do a festival-style tour and have it be centered around touring with bands that our fans love and people we enjoy being around and have a lot of fun with. We are all in this sport and I'm sure we will end up having corn-hole tournaments every night. [Laughs]. It is shaping up to be a lot of fun. Hopefully our audiences will like it.
Aside from tour, what is next for the band?
That's really it. We are going back to Europe in May. We just got back from Australia. We get to see the world. That is one of the best parts of the job.
Anything else you want to add?
Thanks for playing Brother on air and all the support!
The show will start at 7 p.m.
Tickets will be available at the door.