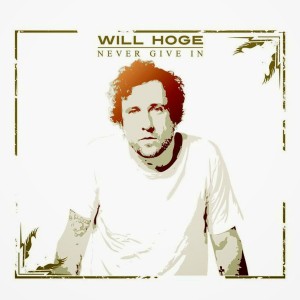 Back in October, Mr. Will Hoge released his newest album, Never Give In. This album is a different approach than his normal "sound," but then again, his  sound changes with every album – and they are all perfect. Without further delay, here is my review on this wonderful album.
1. – "A Different Man" – This song sounds a lot like old school Will from his "Blackbird" and "Man Who Killed Love" days. The background vocals really make this song infinitely more awesome. It's a great album opener. That chorus, though. Definitely one of my favorites
2. – "Goodbye Ain't Always Gone" – This sounds very ballad-y and twangy to me. But this song has really grown on me. It reminds me a lot of "Better Off Now That You're Gone" from Blackbird. "It's always there in the back of my mind, loudest when I'm all alone. Slow dance with the devil one last time. Say goodbye. Oh, but goodbye ain't always gone" is such a powerful chorus. My favorite lyric is "Daylight comes, I might get weak. Say to hell with everything. Strike a match and say come back to me."
3. – "Never Give In" – This is another one of my favorites on this album. My favorite lyric is "The highway is littered with love disappeared." I think is such a sweet "love" song, if you get my drift.
4. – "This Time Around" – This song sounds like a mixture of "Woman Be Strong" and "Lover Tonight" from The Man Who Killed Love. As far as slow songs go, this one is my favorite. I find myself listening to this on repeat every time I try to listen to the album. The part where he says "I'll be better to you this time around" at the end made me cry the first time I heard it because you can really hear the emotion in Will's voice.
5. – "Still Got You On My Mind" – I do not have much to say about this song, but I like the lyric "Being right never felt so wrong." I like the background vocals too.
6. – "Home Is Where The Heart Breaks" – I remember the first time I heard this song, and I knew it would be my favorite. It reminds me of "Secondhand Heart" from Blackbird. The background vocals make this song. The chorus at the end, is perfect perfect perfect. I cannot put into words how much I love this.
7. – "Daddy Was A Gamblin' Man" – This song is definitely about hardship and addiction to something, in this case gambling. But, it also shows how the woman supports her husband through the hard times and stays with him. I do not think the song was placed very well on the album but, whatever. It's a sad song.
8. – "Pale September" – Yay! Another song about my birthday month. Not to be rude, but this is my least favorite song on the album. It starts out kinda eh, but picks up towards the end, which is good. Oddly, this song reminds me of "Baby Girl" from Blackbird. "I don't believe forever anymore" is a good lyric.
9. – "Bad Ol' Days" – The guitar reminds me of "Rock And Roll Star" from Carousel. I like the drum part when he says "Bad ol' days" because it's fun to play air drums to. It sounds like he is very reminiscent of his past.
10 – "Damn Spotlight (Julia's Song)" – I heard this song at Workplay in Birmingham in April. Julia is Will's wife. It really focuses on their hardships they go through with him being a touring musician. The saddest lyric is when he talks about his kids sleeping next to her and he says, "And I finally realize the truth they're the only good thing I ever did to you." Damn, mood killer.
11. – "Strong" – Literally, one of the best songs on the album, and that is not because it is the most popular song. (This song is also the Chevy Silverado advertisement song.) When I first heard it, I was a bit skeptical because it sounded so different from Will's sound. It grew on me. Whenever it comes on in my car, I belt it out and sing like no one is listening. If I were a karaoke person, this is the song I would sing!