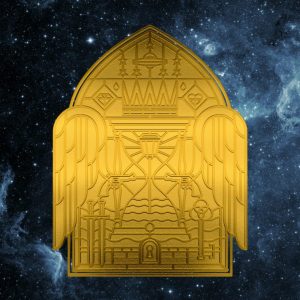 With their sophomore album, Sea of Noise, St. Paul & The Broken Bones continue to impress. The boys from Birmingham quite literally took me to church with their opening track, "Crumbling Light Posts, Pt. 1". Featuring Jason Clark & The Tennessee Mass Choir, Janeway croons "we're just crumbling light posts, in a sea of noise" as the choir surges in a wave of overwhelming harmonies. "Crumbling Light Posts" reprises in the middle of the album, and again at the very end, completing the full circle of gospel that is Sea of Noise. 
And yet with such heavy gospel undertones, it's ironic that such an album was conceived in the "Promised Land" of Indio, California. In the days between Coachella sets, St. Paul & The Broken Bones began the blueprints of what would later become the band's most intricate and soulful set yet.
The album release also functions as the re-introduction of the group as an octet. The addition of Jason Mingledorf (saxophone) and Chad Fisher (trombone) provides a level of depth  their 2014 debut LP Half the City lacked. Expanding on the familiar vintage vibes, producer Paul Butler conducts Sea of Noise into award-worthy territory to join fellow Alabamians the Alabama Shakes.
While Sea of Noise feels like a continuation of a Donald Draper daydream, the lyrics are inherently contemporary. The album is as much a social commentary as it is a time machine. The gender-bending track "I'll Be Your Woman"  echoes Prince's "If I Was Your Girlfriend," while "Waves" examines society's short attention span, and "Burning Rome" keeps pace with the Enlightenment theme of faith residing within ones self. Standout song "Brain Matter" seems to capture the spirit of Noise, with orchestrated strings playing up the 60's feel as Janeway spreads his falsetto wings across the drama-filled track.
Released on Janeway's September 9th birthday, the album is a celebration of both their frontman and the revival of substantial soul music. This is certainly the kind of party we're into.