2015 NFL Mock Draft
TUSCALOOSA– There are teams and then there are players. At the end of each season some players will say goodbye to game while others will just say goodbye to a team. No team is perfect, if there was then we'd see another undefeated Super Bowl winner. This is where free agency steps in as a way to save your team before the draft.
Since free agency might as well be over, teams can now focus on dire needs they missed out on. While some players stock may not have risen or fallen, their position may not be so important to fix at the moment. Meanwhile there are players whose draft stocks actually might have fallen but teams are in needs to draft a certain position more then just raw talent. Although fans know who are the top players in this upcoming draft, expect major risers and fallers in this edition of the 90.7 mock draft.
Keep in mind that some of the players will sound THE EXACT SAME as previous drafts, but there's no reason to change something that is still the same. Also there will not be any trades, sorry Eagles fans. So without further adu,  Tampa Bay, you're on the clock.
1. Tampa Bay Buccaneers- Jameis Winston, QB, Florida State
Sorry Marcus Mariota, you may be a talented quarterback, but Jameis Winston is a pretty fantastic one as well. His arm strength is superb and when it comes to making decisions in the pocket, he is arguably the best quarterback in the country this season. Teams also have to like his resume of 26-1 as a starter in college plus a Heisman trophy to his name is another checkmark. At the combine, Winston ran a 4.97 40, but was able to complete over 90% of his throws from the pocket. Head Coach Lovie Smith was sold on this kid before the combine even started, now probably everyone in Tampa is.
2. Tennessee Titans- Leonard Williams, DT, USC
While the Titans may have issues at quarterback, it seems more and more likely that they're going to stick with Zach Mettenberger at least one more season. On the upside of that, the entire board is open and possibly the best player fans saw Saturday will go here. Pass rush is still a need for the Titans but Brian Orakpo just signed a 4 year, 36 million dollar deal. Leonard Williams however is not just a pass rusher, he's also one of the best defensive line prospect to come out of college in the last several years.. His size and ability to get off the ball will make him a star in the NFL if he gets coached properly. To top it off, he's versatile as a DE or DT so he's clay for Ray Horton to mold into whatever he wants in a very weak defense.
3. Jacksonville Jaguars- Dante Fowler Jr., Edge Rusher, Florida
In my first draft I wasn't sold on Fowler just yet, but after the combine, he is without a doubt the top pass rusher in the 2015 class. While Randy Gregory may be a better selection here, his size might worry GM's so Fowler sizes moves him up. While the defensive line needs were addressed in free agency, pass rush is always import, especially in a division with Andrew Luck. Gus Bradley was able to turn Micheal Bennet and Bruce Irvin into two of the best pass rushers in the NFC, he could easily help Fowler out there. Fowler's ability to change direction is a selling point alone on top of the fact that he was able to shatter SEC quarterbacks week in and week out.  If Williams goes to Tennessee, Fowler won't last much longer.
4. Oakland Raiders- Kevin White, WR, West Virginia
Sorry Amari Cooper fans, while Coop is going to be a stud in the NFL, Kevin White has what Oakland is looking for. At 6'3, 215 lbs, White ran one of the fastest wide receiver 40's at 4.43 and led the wide receivers in bench reps with 23. His route running was perfect and his ability to read and react to the ball was impeccable. While Cooper still could go hear, White's numbers and size make him a little friendlier of a target for Derrick Carr. No matter who Reggie McKenzie drafts here, the Raiders need a major upgrade at wide receiver. More importantly, the Raiders are in need of making a huge day come April 30th due to a poor free agency upgrade. Kevin White fits in with Oakland silver just a little better but also fits well with Reggie Mackenzie's future plans.
5. Washington Redskins- Vic Beasley, Edge Rusher, Clemson
 While there have been rumors of Robert Griffin III being replaced by Marcus Mariota, I wouldn't buy it. four quarterbacks on the roster is too many and the Redskins have to many need to fix in other positions. With Brian Orakpo gone, fixing the pass rush is extremely important. Vic Beasley could be the guy to fix the issue that Orakpo left them with. His size may be a bit of a concern but his ability to read the quarterbacks eyes makes Beasley a sure fire top 10 pick. After three great years playing for the Tigers, Dan Synder should look no further than Beasley.
6. New York Jets- Marcus Mariota, QB, Oregon
Sorry Geno Smith, you had your chance and you blew it. With a new revamp in the front office for the Jets, they also are going to need a new face for their franchise. The Jets could have gone defensive back here before the arrival of  Gilchrist, Cromartie and Revis. They also could go running back or tackle even though it seems a little high to take one of those positions. The smart thing is for the Jets to just draft Mariota and let him sit for a year before handing him the reins. Mariota's combine time was close to parallel to that of Jameis Winston and his record is clean enough to allow Todd Bowles to trust him from day 1. It may not be Mariota's best fit, but he shouldn't fall pass here…trade or not.
7. Chicago Bears- Danny Shelton, DT, Washington
The Bears did some serious revamping this offseason, fixing many of their key issues on defense. Phernell McPhee will add more to the pass rush as well will Ray McDonald. Chris Conte was replaced by Miami great and proven veteran Antrel Rolle. With all those need fixed on defense the Bears will going offense right? Actually wrong, due to Vic Fangio's 3-4 defense. The Bear need a big name at nose tackle and Danny Shelton proved he's the best overall nose tackle in this draft.  After running a 5.6 40 and posting 35 reps on the bench press, he should be easily a top 10 pick. Shelton could take over in the new 3-4 defense and make Will Sutton move to an end rather than tackle. Shelton could easily be the future of the "Midtown Monsters" defense.
8. Atlanta Falcons- Shane Ray, OLB, Missouri
Before Randy Gregory's mishap, Shane Ray would have fallen out of the top 10 by now. Now, Ray has a chance to still be a top 10 player and to play with a great up and coming Coach. Ray's ability to get off the ball in uncanny and his strength is something teams won't be able to overlook. With Dan Quinn taking over in Atlanta, he will want to find his Cliff Avril in this years pass rushing class. Ray this past season became the all time sack leader at Missouri as well as ran a 4.56 unofficial 40 time at his pro-day. Quinn might not be able to overlook him here at number 8 and honestly, he shouldn't.
9. New York Giants- Amari Cooper, WR, Alabama
I said there were going to be surprises in this draft and here's the first one. Amari Cooper could go to any team in the top 10 but with him being the best player on the board, the Giants will not pass up on a talent like this. Cooper's combine numbers went through the roof but his size worried teams to draft him. His pr0 day however proved he still could produce the same as his combine.  The Giants don't have a major need at wide receiver but they could upgrade at the position and draft a lineman in the second round. It also seems like the Giants could upgrade at safety but Landon Collins is truly the only great safety on this draft class. If GM Jerry Reese wants to bring more people into the stands, the trio of Odell Beckham Jr., Victor Cruz and Cooper could be the answer.
10. St. Louis Rams- La'el Collins, OT, LSU
The Rams always seem to be a team one pick away from being a playoff contender. While they could draft a cornerback or wide receiver here, they should however draft for offensive linemen. This decision on which to draft however will be based off Joe Barksdale decision to return or not. If he doesn't, La'el Collins would be a blessing for the Rams if he doesn't go higher. He was possibly the best Tackle in the SEC and helped save LSU's mediocre season. Collins is the type of player who can play both tackles as well as a large guard to help protect his quarterback. With him, Greg Robinson and possibly Barksdale on the front line, Nick Foles will be able to prove he isn't just an average quarterback in the NFL.
11. Minnesota Vikings- Tre Waynes, CB, Michigan State
While there are needs at other positions that could keep the Vikings out of the playoffs, building around the defensive backfield is important if Mike Zimmer wants to be in contention next season. Wide receiver could be a huge need for the Vikings but with the arrival of Mike Wallace, the Vikings could wait till the mid rounds and grab a steal like Justin Hardy. Xavier Rhodes and Harrison Smith have been a blessing for the Vikings defense the past several years but everyone else could use an upgrade. Trae Waynes would pair nicely in Zimmer's defense due to his ability to press receiver and his uncanny ability to get off blocks. His speed and ability to re-route his body to the ball also makes him a huge assets to teams. The Vikings need help in the backfield and Waynes could be the answer.
12. Cleveland Browns- Andrus Peat, OT, Stanford 
Look, while this pick isn't going to save the franchise, the Cleveland Browns have got to make a splash at both the 12th and 19th pick. The Browns were able to address the wide receiver need…sort of with the signings of Brian Hartline and Dwayne Bowe but still could take a receiver here. However the biggest need always is offensive line and protecting Johnny Manziel should be priority number 1.  Andrus Peat may not have had a great combine but he still is a top talent on the offensive line. His size makes him a perfect right tackle to be paired up next to Joe Thomas, Alex Mack and Joel Bitonio for the next several years. Peat is too good to pass up with an aging offensive line and a need at tackle.
13. New Orleans Saints- Randy Gregory, Edge Rush, Nebraska 
The Saints will be revamping their defense at both picks 13 and 31. With a young safety duo in Kenny Vacarro and Jarius Byrd, that seems to be the only position on defense the Saints could steer away from. While cornerback is a need, pass rush is just as important. With his recent falling out, Randy Gregory shouldn't fall any lower then the Saints. His ability to play the edge at 6'5 makes his huge gain for the Saints front seven. Not only that but he can play both defensive end and weak side linebacker depending on where Rob Ryan wants him. Gregory is a Top 10 talent and this could be both a win-win for both sides.
14. Miami Dolphins- DeVante Parker, WR, Louisville 
The Dolphins had a fantastic offseason and now can finally have the confidence to admit they can compete in the AFC. With the signings of Ndamukong Suh, Jordan Cameron and trading for Kenny Stills, Miami is in a great place to draft at 14 or trade down. While they would like to maybe add another cornerback to pair up with Brett Grimes, the Dolphins need a number 1 receiver threat to replace the basket case known as Mike Wallace. Kenny Stills and Jarvis Landry are great but not top threats and while DGB would make a great fit for Ryan Tannehill, Joe Philbin doesn't need another off the field issue. DeVante Parker is a nice fit for Miami due to his size and blazing speed. At 6'3 with a 4.45 40 time, Parker could be a nice deep threat for Tannehill the next several year. While the discussion of Micheal Crabtree is on the table, If Parker isn't taken by Minnesota or Cleveland, Miami should seriously consider taking a chance at Parker.
15. San Fransisco 49er's- Malcom Brown, DE/DT, Texas
At this point, it's safe to say the 49er's need help at almost any position. Chris Culliver is gone and with the retirement of Chris Borland and Patrick Willis, corner and middle linebacker should be at the top of the list. With Waynes gone and Marcus Peters off the field antics an issue, the 49er's will probably wait a round to draft a corner and linebacker. Malcolm Brown would be a nice replacement for the soon to be retired Justin Smith. Built like a tackle with the speed of a larger end, Brown could come in immediately and help contain the outside run against quarterbacks such as Russell Wilson. While inside linebacker and cornerback are two major needs, the risk is too high to draft any of those positions at 15.
16. Houston Texans- Dorial Green Beckham, WR, Missouri 
For starters, the Texans had a very quiet yet productive offseason. With the signings of Ryan Mallet and Brian Hoyer, the Texans could have possibly found their future quarterback. The signing of All-Pro defensive tackle Vince Wilfork is a nice touch as he finishes his NFL career playing for his former coach. The Texans did sign Cecil Shorts III but he's a talented slot receiver at best. DeAndre Hopkins has shown promise as a number 2 guy but the loss of Andre Johnson puts the Texans at a predicament. Dorial Green Beckham is a name that Texans fan would possibly loved to hear be called on April 30th. His 6'5 frame and speed of 4.39 makes him a clear favorite target to whoever lines up under center next year. The Texans need to find a replacement for their all-time great receiver, talent alone makes DGB a top receiver in this year's draft and favorite to replace number 80.
17. San Diego Chargers- Brandon Scherff, OG/OT, Iowa  
The San Diego Chargers are in a small predicament right now. While they did manage to replace Eddie Royal with a Stevie Johnson, he's almost considered a has been after the abysmal season he had in San Francisco. Jacoby Jones was also signed this off season but he's been really just a return man his entire career. Ryan Matthews left for Philly and Donald Brown isn't a number 1 back. Phillip Rivers only has one more year left on the contract and signs indicate he will ore then likely not re-sign. The Chargers could trade up and snag Marcus Mariota but since trades are so hard to predict, let's just say they do the smart thing a draft the best player on the board. Brandon Scherrf's versatility makes him a nice fit in Mike McCoy's offense and a nice pair up with DJ Fluker at guard. His size can help protect Rivers one more year and give Donald Brown a little more time to run. While the Chargers line isn't horrible, Scherrf could make it a solid one for several years to come.
18. Kansas City Chiefs- DJ Humphries, OT, Florida
While everyone is thinking that the Chiefs need an upgrade at wide receiver, the signing of Jeremy Maclin slowly takes away from that issue. With the trade of Ben Grubbs, the Chiefs upgraded the line but still could use some help on the line. Eric Fisher is never going to be a left tackle but DJ Humphries could possibly be that guy. His draft stock has risen more since the NFL combine then possibly anyone in the past several years. With Alex Smith starting his 30's, he'll need to have protection on the blind side if he doesn't want to end up like Joe Thiesmann. DJ Humphries zone blocking will be a nice touch for the up and coming Kansas City Chiefs.
19. Cleveland Browns (via Buffalo)- Breshad Perriman, WR, UCF
Remember about six picks ago when the Browns picked up a lineman rather than a wide receiver, well that's because they have a pick less then an hour later. Everyone already knows the Browns had a horrible offseason but they could help out Manziel by giving him a deep threat receiver in Breshad Perriman. Perriman's giant hands and 6'2 frame make him a nice number 2 receiver in Cleveland for the next several season. Perriman's route running is sloppy but with the help of Coach Pettine, Perriman could be a stud receiver in the NFL.
20. Philadelphia Eagles- Landon Collins, SS, Alabama        
The Eagles offseason will either take them to the Super Bowl or will get Chip Kelly fired. The Eagles have found their running backs of the future in pass catching Ryan Matthews and running train DeMarco Murray. While wide receiver is one need, strong safety or linebacker would give  their defense a scary face. Landon Collins is the top safety in the draft and shouldn't fall any lower then the Eagles. Collins size give him the appearance of a weak side linebacker while the coverage of a free safety. His athletic ability alone makes him a nice pickup for whatever team drafts him however, the pair of Malcolm Jenkins and Collins in the backfield is a scary appearance for the years to come on this surprising Philadelphia team.
21. Cincinnati Bengals- Cameron Erving, OT/OG/C, Florida State 
The thing about free agency is that teams can find their immediate position issues in players who are experienced. The Bengals re-signed former defensive end Micheal Johnson this offseason to give them a little more pass rush with Margus Hunt and Geno Atkins. While AJ Green is the only clear threat at wide receiver, the Bengals could draft a guy in the second round. Protecting Andy Dalton is a priority the Bengals could upgrade. Cameron Erving is a spark plug the Bengals could plug in anywhere. With the recent struggle of Andrew Whitworth, Erving could blossom into a great tackle to pair up against Kevin Zeitler.
22. Pittsburgh Steelers- Marcus Peters, CB, Washington
The Steelers had a quiet offseason but they really didn't need much help at many position. They got their 3rd down running back in DeAngelo Williams and resigned James Harrison to let him finish is career in "the Steel City". While they need help at outside backer, Jarvis Jones should be given one season left before being called bust. With safety being a huge need but no one left on the board, cornerback in a major need that needs to be addressed immediately. Marcus Peters is the top cornerback in the draft but like DGB, his off the field issues will make him fall a few dozen picks. Peters' natural athleticism makes him a huge upgrade for the Steelers after the fallout of Ike Taylor. Kevin Butler will have to rebuild the defense created by Dick LeBeau many years ago, but with Peters, Butler has a bright future as Defensive Coordinator.
23. Detroit Lions- Arik Armstead, DT/DE, Oregon 
The Lions were destroyed by free agency this offseason after losing their defensive line to free agency. Both Suh and Nick Fairley are on new teams and CJ Mosley isn't looking like he'll return. While Haloti Ngata is a nice pickup, he's not the player he used to be in Baltimore. Arik Armstead is a violent defensive tackle that could destroy lines week in and week out. His psychical appearance makes him a huge asset to whichever teams takes a risk on him. Teams may not find him the top target in this offseason but his playing ability makes him a clean mid-round pickup.
24. Arizona Cardinals- Alvin "Bud" Dupree, Edge Rush, Kentucky  
The Cardinals did a nice job this offseason adding to their major needs. The signing of Mike Iupati and Sean Weatherspoon at guard and inside linebacker. Kevin Minter has shown glimpses of being a good linebacker and Alex Okafor needs another year to learn the defense. While Lamar Woodley isn't a bad choice at weak side linebacker, Bud Dupree would be a huge upgrade. Dupree is one of the best pass rushers in this draft and could go anywhere before this if trades are involved. His explosion off the line makes him a nice pickup from the standing position and his blazing speed is great when trying to reach the quarterback. If Dupree is still on the board, he shouldn't fall past here.
25. Carolina Panthers- Ereck Flowers, OT, Miami   
The Panthers have upgraded at the tackle position…well one at least. Micheal Oher and Jonathan Martin can play left tackle but both are imcapable of playing the right tackle position. Ereck Flowers did a great job protecting Brad Kaaya last season and really was able to make Duke Johnson a stud running back in the ACC. His abitly to hold a block will be nice to help Jonathon Stewart and Cam Newton run the ball several times a game. While wide receiver is still a need, tackle is much more important this early in the draft.
26. Baltimore Ravens- Jalen Strong, WR, Arizona State
The Ravens have failed this offseason in signing any big names. Safety and cornerback are a need even though Jimmy Smith and Matt Elam are decent defensive backs. Wide receiver however is a major need right now due to the loss of Torrey Smith. Steve Smith is aging and near the end of his career while Marlon Brown isn't a number 2 receiver in the NFL. Jalen Strong is a guy who fell due to other major needs by teams but still can contribute. His 4.44 40 time makes him a nice speedster to run the deep post late in the game. While they'll need at least one more receiver to help Flacco out, Strong is first round talent that probably won't fall out of the first round.
27. Dallas Cowboys- Melvin Gordon, RB, Wisconsin
The Cowboys did one thing right this offseason; taking a chance on Greg Hardy. While he may still be in trouble with the NFL, the Cowboys gain a great pass rusher for a cheap price. With that in mind running back and possibly defensive line are the only two position the Cowboys should upgrade at. Melvin Gordon is the running back to break the curse of running back this NFL draft. His taller frame ability to make multiple cuts in a single run makes him the clear top choice at running back. Darren McFadden was a nice pickup but his days a number 1 running back are done. The Cowboys need help on the defensive line still, however with Gordon on the board, it's hard to pass up on him when there's need at the position.
28. Denver Broncos- TJ Clemmings, OT, Pittsburgh  
Denver did lose Julius Thomas to free agency and have decided to part ways with Wes Welker after last year. While tight end is a big need, there isn't one worth taking in the first round. wide receiver could be a need but they did draft Cody Latimer last year so he could become the number 2 receiver next year. With the loss of Orlando Franklin to the Chargers, tackle would be a need the Broncos should address to help Peyton Manning. TJ Clemmings is a good tackle and could be a nice fit for the Broncos if he falls this far. His size makes him a nice right tackle and his footwork would give him the ability to hold a block long enough for Manning to release the ball. Clemmings is the best tackle left on the board at this point and the Broncos should seriously consider finding as much protecting for Manning as possible.
29. Indianapolis Colts- Jake Fisher, OT, Oregon
The Colts are just a few needs away to be back in the Superbowl after free agency. With the arrivals of Frank Gore, Andre Johnson and Trent Cole, the Colts have addressed three of the four major needs. Tackle is still a need and Jake Fisher is a risky, but promising future tackle. Fisher was one of the main reasons Marcus Mariota was able to produce the video game numbers last season and could grow by learning from linemen like Anthony Costanzo and Jack Mewhort. Also the fact that the Colts have only have Gosder Cherlius at right tackle could be an issue. Fisher isn't a top linemen in this draft, but when teams draft low, finding the number one needs is a must in the first round.
30. Green Bay- Erik Kendricks, LB, UCLA   
The Packers had a quiet offseason but a solid one. Randall Cobb decided to rejoin the team and the Packers are close to resigning both of their defensive tackles. While they did lose Tramon Williams to the Browns, there's a bigger need then cornerback. The Packers only have one inside linebacker on the entire roster so drafting Erik Kendricks in the first round really makes sense. Kendricks physical ability makes him the top tin side linebacking target while his speed and raw tackling skills make him a threat to reach the quarterback. While he is smaller then most inside linebackers, his leadership skills really would make him an asset of the dead linebacking core in Green Bay. Personally, the Packers should draft two inside linebackers within their first three rounds, but Kendricks will fall shortly after if the Packers let him slide. Kendricks is first round talent and shouldn't fall past the Packers if Ted Thompson is smart.
31. New Orleans Saints (via Seattle)- Ronald Darby, CB, Florida State
With the loss of Jimmy Graham, The Saints were blessed with two first round draft picks. While replacing Graham would be a solid selection at pick 31, Maxx Williams isn't worth that much money in the first round. Cornerback is a need the Saints should address after the Champ Bailey experiment failed miserably. While Brandon Browner was just signed but he's also pushing 31 this year and will slowly decrease. Ronald Darby would be a nice pickup to close out the first round due to his blazing speed. His 4.38 40 time at the combine and his 41.5 inch vertical pushed him up from a mid second round to last first pick. While learning for Browner, Darby could become one of the next top cover corners in the NFL. Rob Ryan needs to address the defense all over but Darby is a nice touch to pair with Gregory in the first round.
32. New England Patriots- Byron Jones, CB, Connecticut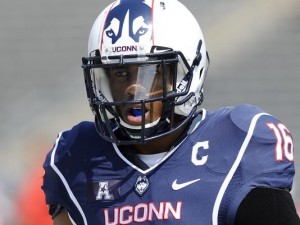 With the final pick in the first round, there a many ways the Patriots can go. The Patriots missed out on getting a number 1 receiver this offseason and allowed Vince Wilfolk to walk out of New England. However the biggest issue is at cornerback after Darrelle Revis and Brandon Browner left this season. Byron Jones isn't the most polished cornerback at the point, but his raw athletic ability makes him first round talent. His 12 foot broad jump and 4.39 unofficial 40 time will make him a threat covering receivers especially on third down. His raw potential is clay for Bill Bellicheck and he's going to have to find his next stud in this round for the backfield after letting two stars walk.
Cole Thompson is the lead NFL Draft writer for WVUA-FM. Follow him on twitter at @ColeThompson32