By: Kristian Corpuz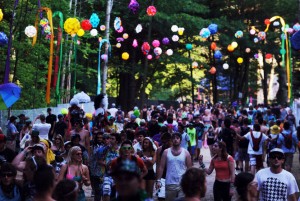 Great weather, great music, great vibes, and great atmosphere are just a few ways to describe the third annual Electric Forest Music and Arts Festival in Michigan.  An electronic heavy lineup, Electric Forest was an explosive four days with String Cheese Incident doing their usual three-nighter and other headlining acts such as Pretty Lights and Empire of the Sun putting on explosive shows.  Bands such as The Floozies, Emancipator, Railroad Earth, and Femi Kuti also put on stellar performances as good music went on through out the four days.  Big Gigantic's Dom Lalli made surprise guest appearances throughout the four days with sit-ins with String Cheese, GRiZmatiK, and other artists.
The first night saw little rain, but that didn't stop everyone from raging hard at EOTO, Lotus or Suckerpunch.   The second day had the epic GRiZmatiK set with one of the biggest crowds of the four days.  Chicago native Krewella closed out the second night by putting on a great set and letting the crowd know how much she wanted to be there.  Night three  was surely one for the books with String Cheese throwing down an electrifying set that included masquerade dancers, streamers, fireworks, and enormous bouncing cubes the size of garden homes!  String Cheese also played their typical bluegrass set for the last of their three shows.  Greensky Bluegrass, who also played the festival, joined String Cheese on the fourth day for an epic performance that included Bruce Springsteen cover Atlantic City.  Pretty Lights helped close out the festival on the fourth night with an amazing light show and some sweet music.
Sherwood Forest, one of the main attractions at the festival, expanded this year with new additions such as the Observatory Stage and an expansion of forest space.  Sherwood Forest was a great spectacle that was sure to blow the minds of any Electric Forest newcomer.

With another year in the books, Electric Forest is sure to continue its success for years to come.  Expect great things for the future!
For full lineup as well as pictures and more visit electricforestfestival.com.
Photos from:
mlive.com
thissongissick.com
insomiac.com