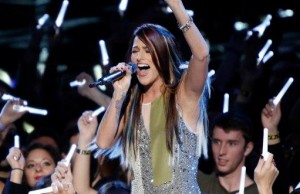 Twenty-three year old Cassadee Pope is a singer and songwriter from Florida who recently won NBC's season three of "The Voice".  However, before stunning all four judges within the first minute while auditioning with her cover of Natalie Imbruglia's song "Torn", Cassadee had already established a fan base.  In 2008, Cassadee and her former band Hey Monday were discovered by Fall Out Boy's Pete Wentz; consequently signing a joint record deal with DecayDance and Columbia Records.  The band released two albums and two EP's, including a Christmas EP not long after releasing their second album.
They released multiple singles; however, their single "Homecoming" from their first album became the most popular, making the Billboard Top 100 Chart and being shown on MTV for a period of time.  Hey Monday appeared in Warped Tour as well as touring with bands such as All Time Low, Yellowcard, and We The Kings between 2008 and 2011.  Hey Monday went on a temporary hiatus because Cassadee made the decision to try her hand at a solo career.  Her solo EP did not get much attention because most fans were either distressed about the bands hiatus or did not know they had temporarily split in the first place and a single was never released from the record.
After trying all of her music contacts in Los Angles, Cassadee made the decision to audition for "The Voice".  She had been asked to audition at the beginning of a previous season, but turned down the offer because at the time she had no plans on leaving Hey Monday and starting a solo career.  Since she had made it on her own before, without the help of reality television, Cassadee was reluctant to audition for season three but realized that if she wanted to go further with her career it was probably a good decision to at least try.
During the show, Cassadee achieved an even higher fan base, adding on to her Hey Monday followers.  She did, however, receive some criticism throughout the show from people saying that she had an unfair advantage because of how she had previous experience in the music industry.  "The Voice", though, is unlike talent competitions such as "American Idol" that only allow amateurs and does not mind giving singers a second chance at fame.  After performing covers of "Over You" by Miranda Lambert and "Stupid Boy" by Keith Urban with coach Blake Shelton by her side assisting her, Cassadee proved to herself and her fans that she is able to step out of the pop-punk scene they are used to seeing her in and sing other genres of music as well.
Now that she has won "The Voice", Cassadee has sealed a record deal with Universal Records and taken one more step closer to achieving the solo success that she set out to do in late 2011 after taking a break from her band.  Whether or not Hey Monday's hiatus is still temporary is unknown, as no announcement has officially been made but dates are currently being set for Cassadee to begin recording her debut album.
By Lindsey Wissinger
1/24/2013