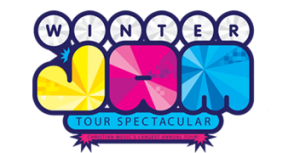 Over the weekend, WVUA-FM attended the Winter Jam tour in Birmingham, AL to see Skillet and Family Force 5.
Family Force 5 is always a fun band to watch.
Recently, the band had a member change. Their lead vocalist, Soul Glo Activatur, left his position to be more involved with the band behind the scenes and produce and to spend more time with his family.
His brother, Crouton, stepped up to the plate and took over on vocals, and they hired Hollywood as their drummer.
This was the first time I had seen them without Solomon but it was still just as wonderful without him. The energy was the same.
They played:
BZRK
Let It Be Love
Cray Button
Chainsaw
Skillet performed to a packed out BJCC and did not disappoint as they were all on their feet. They played:
Not Gonna Die
Whispers In The Dark
Sick Of It*
Awake and Alive
Those Nights*
Hero*
Monster*
Rebirthing
During Sick Of It, Jen Ledger's drum kit was moved to the catwalk and started spinning.
Those Nights was performed at the end of the catwalk. Jon Cooper mentioned that this was the first time a banjo was used and the entire band put on "nerd" glasses. Cooper also made mention that he was from Memphis and knew that Alabama could "get down."
Hero was performed with Jon and Jen getting on two big contraptions and being wheeled around the venue while singing their parts of the songs.
During Monster, Jeremy Camp joined the band on stage to do guest vocals.
The evening was filled with nostalgia for some and a lot of dancing for others.
I heard someone in the crowd say "This is the best I have ever seen Skillet."
Skillet is currently on tour for their album Rise.